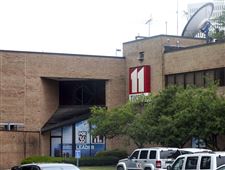 WTOL-TV Channel 11 headquarters in Toledo
The Blade/Amy E. Voigt
Enlarge | Buy This Image
The owners of Toledo' WTOL-TV, Channel 11, said Monday they have agreed to sell the CBS affiliate to Tegna Inc., a digital media and marketing company based in McLean, Va.
Gray Television Inc. plans to sell both WTOL and an NBC affiliate in Texas for $105 million in cash to Tegna, a company created in 2015 when media giant Gannett Co. spun off its television assets.
RELATED: Big TV ownership deal affects Toledo
The deal could be completed by year's end, subject to federal approval. Tegna plans to finance the purchase using available cash and an existing line of credit.
Gray, which also owns ABC affiliate WTVG-TV, Channel 13 in Toledo, announced in June it would spend $3.65 billion to acquire the 101 television stations of Raycom Media, Inc.
To help that deal gain approval by the Federal Communications Commission, Gray said it would divest its portfolio of TV stations located in nine overlapping markets. The divestiture included WTOL and station KWES-TV in Odessa-Midland, Texas.
Tegna said Monday that its agreement to acquire WTOL and the Texas station is contingent on the Gray-Raycom deal being completed. That transaction is expected to close in the fourth quarter of 2018. It also is subject to regulatory approvals and closing conditions.
The WTOL sale would mean that the Toledo market's three biggest television stations — Channel 13 owned by Gray, Channel 11 owned by Tegna, and WNWO-TV, Channel 24 owned by Sinclair Broadcasting Group — would be owned by companies with publicly traded stock.
It is unclear what a WTOL sale would do to the current shared services agreement the station has with WUPW-TV, Channel 36, Toledo's Fox affiliate, which is owned by American Spirit Media. The shared services agreement allows for a combined newsroom product between the stations with local newscasts accounting for a total of nine hours of programming: 5½ hours on WTOL, 3½ hours on WUPW.
Tegna is the largest independent NBC affiliate group and the second largest CBS affiliate group in the United States. The company currently owns 47 stations in 39 markets, covering a third of U.S. television households, and is the largest owner of top 4 affiliates in the top 25 markets.
It already owns one Ohio television station, WKYC-TV, the NBC affiliate in Cleveland.
Brian Lorenzen, general manager of WTOL, said he does not know a lot about Tegna, other than it was spun off by Gannett.
"But they have some really really good properties. They own some competitive top-rated stations," he said.
"What I know of them from the people who work with them is that they like working with Tegna."
Tegna, the general manager added, is known for using cutting-edge technologies to augment its news gathering and reporting. "They're not afraid to be innovative and daring," Mr. Lorenzen said.
Mr. Lorenzen said that since the Gray-Raycom deal was announced in June it has been a stressful period for the entire WTOL staff given the certainty of a future sale but no inkling as to who the buyer might be. "It's been an emotional time for all of us," he said.
But Mr. Lorenzen said he is "looking forward to this chapter and the thing that excites me the most is that these stations came up for sale and somebody picked us and said they want us to be part of their portfolio," he said.
"They only bought two of these stations and I think they bought us for a reason," he added.
Tegna said WTOL reaches nearly 380,000 TV households throughout northwest Ohio and southeast Michigan, while KWES covers West Texas and give the media company 12 stations in Texas.
"WTOL and KWES are strong, leading local media brands, with deep roots in their community. They are an excellent strategic and financial fit with our portfolio," Dave Lougee, president and CEO, Tegna, said in a statement. "As we've seen with the results of our recent acquisition of KFMB in San Diego, Tegna has a proven track record of acquiring highly attractive assets that create value for shareholders. We continue to invest in growth and remain well positioned to capitalize on consolidation opportunities that are both strategic and financially prudent.
Contact Blade Business Writer Jon Chavez at jchavez@theblade.com or 419-724-6128.
Guidelines: Please keep your comments smart and civil. Don't attack other readers personally, and keep your language decent. Comments that violate these standards, or our privacy statement or visitor's agreement, are subject to being removed and commenters are subject to being banned. To post comments, you must be a registered user on toledoblade.com. To find out more, please visit the FAQ.