Kroger to phase out plastic bags
8/23/2018
Single-use grocery bags at Kroger in Toledo.
The Blade/Samantha Madar
Buy This Image
Kroger, the Toledo area's dominant grocery chain, said Thursday that it will phase out single-use plastic bags and transition to reusable bags at its 2,779 food stores nationwide by 2025.
Cincinnati-based Kroger launched the initiative immediately, beginning with its Quality Food Centers in the Seattle area. The QFC division, which has 64 stores in Seattle, Bellevue, Tacoma, and the Puget Sound region of Washington plus Portland, Ore., plans to eliminate plastic bags by 2019.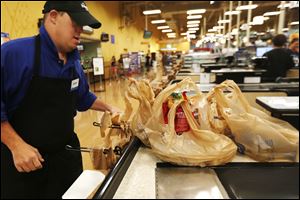 Jason Gray of Toledo bags groceries at Kroger in Toledo on Thursday. Kroger will be phasing out single-use plastic bags in all stores by 2025.
But when the phase-out initiative will reach Kroger's 16 metro Toledo stores is unknown.
The company is still working on the logistics of where and how best to implement a single-use plastic bag ban over the next six years.
"There is no ETA beyond the [Quality Food Centers] division taking on the initiative now," said Amy McCormick, a spokesman for Kroger's Columbus division, which includes the Toledo market.
"The entire company will be pulling people together on how we'll be moving forward and what regions will be next to remove the plastic bags," she said.
Kroger says it orders about 6 billion bags annually for its stores, which are spread across 35 states. A spokesman for QFC told Seattle area news outlets that the grocer plans to keep single-use plastic bags for produce, but those too would be phased out later.
The company said it will seek customer feedback and work with outside groups on ways to ease the transition from plastic to reusable bags. Customers will be able to buy reusable bags at its stores for $1 to $2 apiece and brown paper bags will be available for free.
But Kroger said its goal is to fully transition to reusable bags.
"As part of our Zero Hunger/Zero Waste commitment, we are phasing out use-once, throw-it-away plastic bags and transitioning to reusable bags in our stores by 2025," Rodney McMullen, Kroger chairman and CEO, said in a statement issued Thursday. "It's a bold move that will better protect our planet for future generations."
Kroger said some estimates suggest that 100 billion single-use plastic bags are thrown away in the U.S. every year.
The phase-out is part of Kroger's new environmental approach to doing business, a change that includes a goal to divert 90 percent of waste from landfills by 2020, and a zero waste program that sent more than 91 million pounds of safe food to local food banks and pantries in 2017.
Starting its plastic bag ban in Washington seemed like an easy choice for Kroger. Seattle, Tacoma, and other cities in that region already ban single-use plastic bags, and Edmonds, Wash., has had a ban in place since 2010.
In California, where Kroger has Ralph's Groceries and Food 4 Less stores in the Los Angeles and San Diego markets, single-use plastic bags were banned statewide starting in late 2016.
"I think they're just jumping ahead of law changes anyway. ... They're just announcing now what they're going to have to everywhere soon," said grocery industry analyst David Livingston of DJL Research in Milwaukee.
But the decision makes sense, he added, and not only because it will save Kroger money.
Plastic bags "cause a lot of litter. If you go to Pacific islands, all that crap that washes on the beaches. If you go to inner cities, they're stuck on the fences or just blow around," Mr. Livingston said.
"But now because Kroger announced it, a lot of other grocery chains are going to have to do it," he added.
Retail consultant Chris Boring of Boulevard Strategies in Columbus said the decision is a good public relations move with the environmental movement becoming more mainstream.
"But underneath it all there's a tug-of-war going on between the retailer and consumers," Mr. Boring said. "By making customers bring bags, it shifts some labor costs and material costs to the consumer."
Grocery chains already were cutting labor costs by having customers use self-serve checkout. "I think [eliminating plastic bags] pretty much dovetails with that," Mr. Boring said.
Contact Blade Business Writer Jon Chavez at jchavez@theblade.com or 419-724-6128.