Revenues jump at Ohio casinos
9/7/2018
Gamblers play the slot machines at the Hollywood Casino Columbus.
ASSOCIATED PRESS
August proved to be a good end to the summer for Ohio's four state-approved casinos, which all showed increases in revenue for the month compared to a year earlier.
At Hollywood Casino Toledo revenue increased 3 percent to $16.7 million last month, according to figures released Friday by the Ohio Casino Control Commission. A year ago the August total was $16.2 million.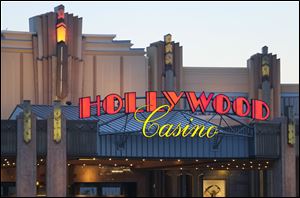 Hollywood Casino in Toledo.
At Hollywood Casino Columbus, the Toledo gaming house's sister property, revenue totaled $18.4 million, up 1 percent from $18.2 million a year ago. Both casinos are owned by Penn National Gaming Inc.
The largest monthly gain in revenue was a nearly 15 percent increase at the Jack Cincinnati Casino, which is owned by Jack Entertainment LLC. The casino's August revenue was $17.7 million, compared to $15.4 million in August, 2017.
At Jack Entertainment's other Ohio gaming house, the Jack Cleveland Casino, revenue was up about 4 percent to $17.5 million. A year ago the casino's revenue totaled $16.8 million.
Statewide, August revenue totaled $70.3 million, up 5.4 percent from last year's monthly total of $66.7 million.
All the figures released by the state control commission, which is the governing body for slots and table gambling in Ohio, are calculated solely from casino gambling totals. Sales from food, drinks, merchandise, and events are not included in the commission's totals.
Through eight months, the four casinos are on pace to have a good year.
At Toledo, year-to-date revenues totaled $136.5 million, up 2 percent from the first eight months of 2017. The Columbus property's eight-month revenues stood at $152.7 million, up 2.8 percent.
The Cincinnati and Cleveland casino revenues were $135.5 million, up 1.8 percent, and $135.5 million, up 1.7 percent, respectively.
Statewide revenue totals through the first eight months were $560.4 million, up 2.1 percent.
At the state's seven racinos, which pair slots and video gaming that are overseen by the Ohio Lottery Commission, fiscal August revenue totaled $79 million. That was up 6 percent from fiscal August, 2017, when revenues totaled $74.5 million.
Contact Blade Business Writer Jon Chavez at jchavez@theblade.com or 419-724-6128.