Off-road Roxor too closely resembles Jeep Wrangler, complaint alleges
9/11/2018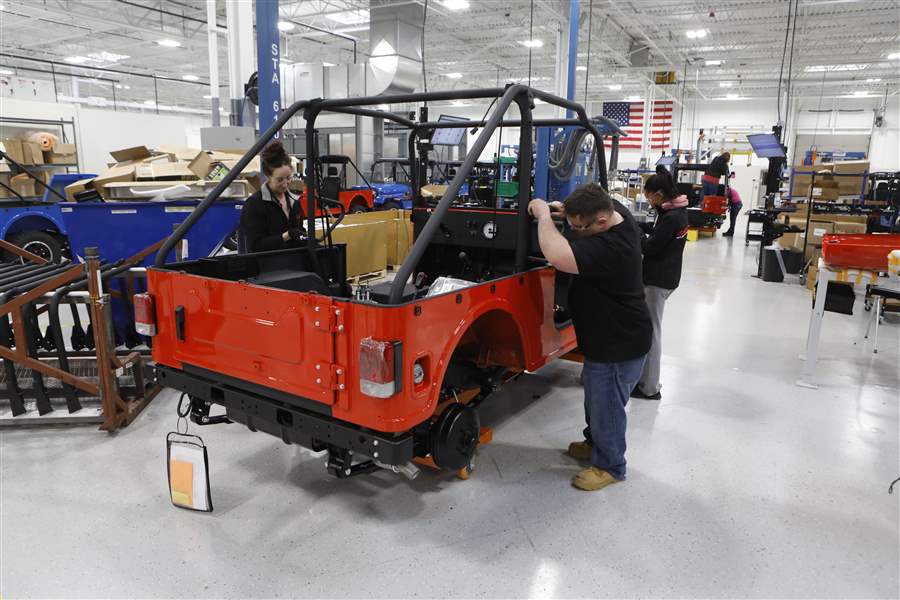 A Roxor moves through the assembly line at Mahindra Automotive North America in Auburn Hills, Mich.
The Blade
Buy This Image
The U.S. International Trade Commission, which investigates trade complaints against foreign companies, said Tuesday it will open a formal investigation of an alleged auto patent infringement by India's Mahindra & Mahindra Ltd., which builds an off-road utility vehicle that resembles the Toledo-built Jeep Wrangler.
The investigation stems from a complaint filed Aug. 1 by Fiat Chrysler Automobiles.The complaint alleged that certain design features of Mahindra's Roxor vehicle infringed on the Jeep design and violated FCA's intellectual property rights.
Fiat Chrysler, based in Auburn Hills, Mich., requested that the trade commission issue a limited exclusion order and a cease and desist order against Mahindra, which is based in Mumbai but also has offices in Auburn Hills.
The trade commission said it will assign the case, known as a Section 337 investigation, to an administrative law judge who will make an initial determination whether a violation of trade law occurred. Later, the commission will make a final determination. Forty-five days from now the commission will announce a date when it expects to complete its investigation.
The primary remedy in Section 337 cases is an exclusion order that directs U.S. Customs to stop the infringing imports — in this case, the Roxor — from entering the U.S. In addition, the commission could issue a cease and desist order against importers or other persons engaged in acts that violate Section 337.
A Blade reporter's visit in March to Auburn Hills and the Mahindra Automotive North America plant where the Roxor is made noted the Roxor does have some similar design attributes as an older Jeep Wrangler.
It has round headlamps and flat fenders, a torquey four-cylinder engine, and no-nonsense simplicity, much like an old-school Jeep, The Blade report said. But it does not not have the Wrangler's signature seven-slot grille.
The Roxor, which is not street legal, is meant for off-road use on farms, to get sportsmen to hunting and fishing grounds, or give recreational off-road enthusiasts another option. It debuted in March starting at $15,500.
A top Mahindra official told The Blade that the company is using the off-roader to establish its brand in the United States but has no plans to compete with Jeep vehicles.
But Fiat Chrysler issued a statement on Aug. 1 when it filed the complaint and a spokesman on Tuesday re-issued the same statement.
"FCA US is requesting that the International Trade Commission open an investigation of Mahindra's intentional trade dress and trademark infringement of our Jeep brand related to the import, distribution and sale of the Roxor product in the U.S. Specifically, we are requesting that the ITC issue an exclusion order to prohibit Mahindra from importing the infringing product into the U.S.," the statement read.
Mahindra was among the first companies that Toledo-based Willys, which made the original Jeep Wranglers, granted a licensing agreement to make a variant of the post-war civilian Jeep.
Mahindra began producing such a vehicle in 1949 and never ceased doing so with the company still building CJ-3B Wrangler derivatives well into the 21st century.
Mahindra Automotive North America has filed a public interest statement with the trade commission and began proceedings in a Michigan court to enforce a design agreement it executed with Fiat Chrysler in 2009.
In a statement that Mahindra issued Tuesday, the company said the trade commission indicated it would conduct a 100-day expedited consideration of the 2009 agreement and its effect on the patent infringement investigation.
Mahindra reiterated that it believes FCA's case "is without merit" and contains inaccuracies regarding Mahindra as a company and the Roxor as a product.
Contact Blade Business Writer Jon Chavez at jchavez@theblade.com or 419-724-6128.