Toledo adds rooms in local boom
Flurry of new hotels in area mirrors nationwide trend
8/23/2015
A Hampton Inn & Suites is open at 2931 Navarre Ave. in Oregon. Including the hotels under construction, within two years, the metro area will add more than 500 rooms. Nationwide, more than 150,000 rooms are in the works, most of them in hotels with limited service.
The Blade/Katie Rausch
Buy This Image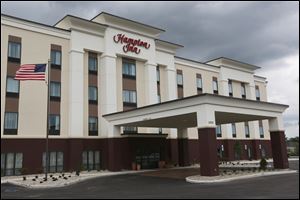 A Hampton Inn & Suites is open at 2931 Navarre Ave. in Oregon. Including the hotels under construction, within two years, the metro area will add more than 500 rooms. Nationwide, more than 150,000 rooms are in the works, most of them in hotels with limited service.
The last two years have been very busy ones for developer Steve Roumaya.
About this time last year, Mr. Roumaya was putting the finishing touches on a Hampton Inn hotel on Secor Road in West Toledo, one of the area's first new hotels in a few years.
But he didn't stop there.
He developed the Hampton Inn in Oregon, which opened two weeks ago, and he is overseeing two Holiday Inn Express hotels under construction, one in Perrysburg and another adjacent to the Hampton Inn on Secor.
Including the four hotels that Mr. Roumaya, president of Key Hotel & Property Management Inc., has built or is developing, and a nearly-completed Staybridge Suites hotel on Clark Drive in Rossford that is being developed by George Oravecz & Associates, metro Toledo will add within about two years more than 500 hotel rooms.
The hotels under construction are expected to open this year.
Mr. Roumaya also is in preliminary talks with a hotel chain about building an extended-stay hotel near ProMedica Toledo Hospital.
The area lodging boom is part of national hotel building expansion being fueled by a confluence of factors across the United States.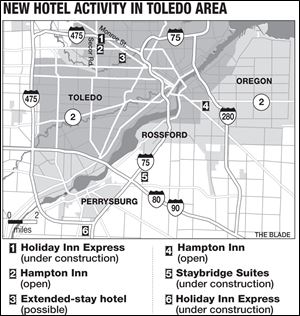 "I think, generally, you have an improving economy, which means leisure travel but also business travel is increasing," said Rosanna Maietta, a spokesman for the American Hotel & Lodging Association.
Lower gas prices have put more people behind the wheel who are going farther from home and needing lodging, she said.
Tourism, especially, is back strong after sluggish years following the recession.
Tamara Brown, a spokesman for the Ohio Office of Tourism, said state tourism has risen from a $36 billion industry in 2012 to $40 billion last year.
"We've seen a nice steady increase. … We have a lot of people traveling just within Ohio," Ms. Brown said. "Across the state we're seeing lots and lots of new hotels coming online."
Brad Garner, senior vice president for STR Inc., formerly Smith Travel Research, said the 2007 recession practically killed hotel development. A recovery was expected at some point, but what has been interesting is that, even with growing demand, "it's taken far longer for supply to come back then it did in earlier cycles," he said.
"There has been a more measured approach to building hotels, and it's actually a good thing," Mr. Garner said.
Construction started to tick up over the last two years, but with a twist.
Nationally, more than 150,000 new hotel rooms are in the pipeline, but two thirds of those are for hotels with limited services, not the luxury inns, Mr. Garner said.
"Everything is a little bit of upper midscale to upscale," he said.
A Holiday Inn Express is under construction on Roachton Road at State Rt. 25 in Perrysburg.
That is significant, he explained, because without any luxury properties to build — and the vast majority are built in the nation's top 20 markets — hotel chains needed to look elsewhere to expand.
Some chains are building luxury properties overseas, but most still want to build in the domestic market, now looking to midsized and small markets.
So, the type of hotels being built in Toledo fit that mold, Mr. Garner said.
Such focused service hotels include the Hampton Inn and Holiday Inn Express chains, which have some amenities and smaller meeting rooms but not luxury services.
Hotel numbers have remained steady, though, in the Toledo area from 2009 to now, STR figures show. The area had 79 hotels and about 7,800 rooms six years ago and now has 81 hotels and about 7,700 rooms.
Another Holiday Inn Express is under construction on Secor Road, adjacent to the newer Hampton Inn there.
That doesn't count, though, some of the area's new or under-construction hotels.
Mr. Roumaya, who has been building hotels for 20 years in southeast Michigan, said as he found a need for the limited service hotels in the area three years ago.
"The market changes. We wanted to go after the corporate business," he said. But corporate executives weren't interested in large luxury hotels with spacious suites, spas, and gourmet chefs on-call 24 hours, he said.
Instead, businessmen wanted a nice room at a good price where they could come into town, conduct their business quickly, and leave.
For longer stays, they want a nice room with a kitchenette, he said. But in both cases, price and quality were important.
"The corporate people prefer a newer hotel, but now you have got to have the right location and the right [hotel affiliation]," he said "They like Marriott, Hilton, Hampton, and Holiday Inn."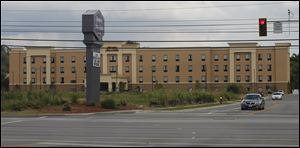 The 108-room Hampton Inn & Suites opened on Secor Road in 2014 on the site of a former multitheater complex.
Much of what Toledo had a few years ago were older hotels that did not fit the changing trends, Mr. Roumaya said.
InterContinental Hotels Group, which owns the Holiday Inn Express and Staybridge Suites chain, said it decided to commit to three new properties in the Toledo area after studies showed a need for rooms.
"IHG, along with our franchisees, recognized the need for more lodging in the Toledo market, especially on the west side of town near multiple hospitals and medical centers as well as the University of Toledo," said IHG spokesman Abbey Jensen. "In Perrysburg, there is currently only one extended stay hotel, so the need for increased extended stay lodging options will be met with the opening of the Staybridge Suites ... in the fall of 2015."
Richard Nachazel, president of Destination Toledo, which oversees the area's convention and tourism activities, said such limited service hotels fit the area's demand from tourism, corporate business, and bus tours.
"A Hampton Inn and Holiday Inn Express, those have a very nice free breakfast and newer rooms," Mr. Nachazel said. "Typically, they have small meeting space, but it's big enough for a committee meeting, a small wedding shower, or other social events, and it's good for training sessions for a small company."
He added: "We haven't had oodles of new hotels compared to some of the other communities around the state, so we're happy to see it happening."
Hotel occupancy in the area, he said, is about 69 percent, "which is very good in this market."
Contact Jon Chavez at: jchavez@theblade.com or 419-724-6128.