Toledo's vacant Lorraine Hotel heads to auction starting at $500,000
4/17/2023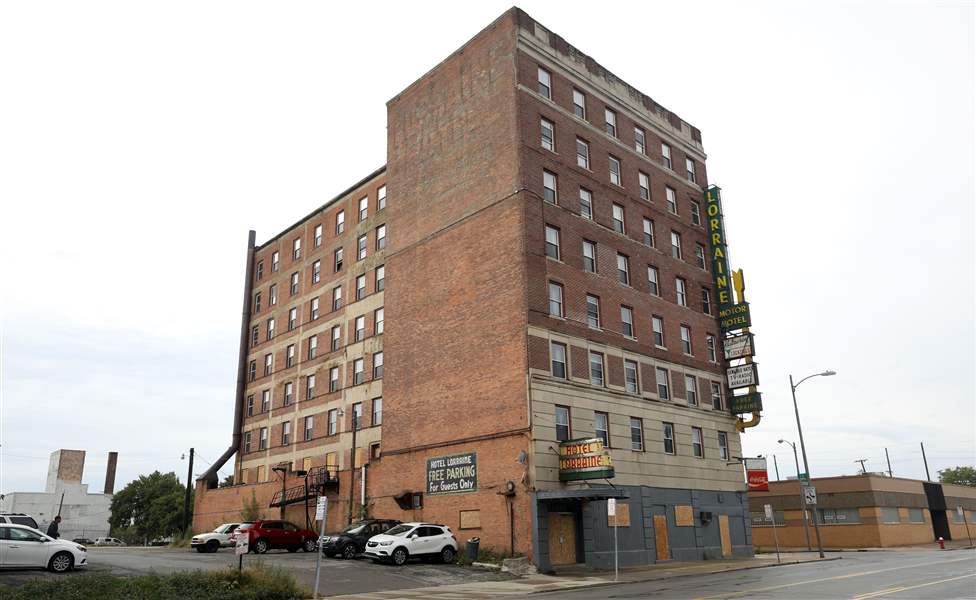 The Lorraine Hotel is boarded up in Toledo on Oct. 11, 2019.
THE BLADE/KURT STEISS
Buy This Image
The vacant Lorraine Hotel near downtown Toledo is heading to the auction block early next month with a starting price of $500,000, SVN-Ascension Commercial Realty announced Monday.
Less than a year ago, the almost century-old hotel at 1117 Jefferson Ave. appeared headed for an upscale redevelopment. City officials signed off on a commercial zoning change for the property last summer. Plans called for a 105-room hotel, a first-floor caf​é, a rooftop lounge, and a speakeasy, a Toledo City Plan Commission report said. But the deal fell apart.
"The costs were not lining up. They were too prohibitive," said Monika Moss-Gransberry, president of Cleveland-based Walnut Ventures, which had mapped out the redevelopment project and was planning to buy the property, but ultimately backed out of the deal before it finalized last year.
The former hotel in Toledo's UpTown district, vacant since 2019, will head to an online auction running May 5-11. Property records say it's owned by 1117 Jefferson LLC, which purchased it in March 2021 for about $167,000. Ohio business records do not say who owns the firm; Ms. Moss-Gransberry said it's a group of California investors.
"The Hotel Lorraine is selling with a published reserve,"​ Bill Menish, the auctioneer with SVN-Ascension, said in an announcement, noting the property had previously been listed at $800,000. "That means when we get a bid of $500,000, the property is going to sell, but it could go higher, even much higher from there. We won't know until the auction is over on May 11th."
​The Lorraine Hotel opened in 1925 with 150 rooms and was advertised as having a "homelike" atmosphere and an attractive coffee shop on the ground floor.
In more recent years, it fell into disrepair. In 2017 there were hopes a local investment group who bought the hotel for $790,000 could overhaul the property and bring it back to life. But two people who ran that investment company, Sierra Real Estate LLC, were ultimately sentenced to federal prison for a real estate investment scheme. The building closed and tenants were forced to leave under a court order about four years ago.
Ms. Moss-Gransberry said her firm realized the project wasn't worth it last year as construction costs continued to rise, and after a structural engineer raised concerns about whether it was possible to add a bar and restaurant on the roof. Walnut Ventures does not have any other projects in Toledo, but had spotted the old hotel and believed it had potential.
"It just wasn't going to work," she said of the project. "We were so disappointed. My spreadsheet was blowing up every week."
She said the building is best suited to remaining a hotel, as the concrete walls would be difficult to move to create apartments.
Details on the property and auction are on SVN-Ascension's website, svnmenish.com.