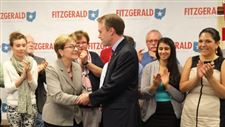 Toledo Congressman Marcy Kaptur endorses Democrat Ed FitzGerald for governor Thursday at the Lucas County Democratic Party headquarters in Toledo, Ohio.
THE BLADE/JEREMY WADSWORTH
Enlarge | Buy This Image
Democratic candidate for governor Ed FitzGerald was in Toledo today collecting an endorsement from his fellow Democrat - and his congressman - U.S. Rep. Marcy Kaptur (D., Toledo).
Miss Kaptur, whose 9th congressional district includes Mr. FitzGerald's home city of Lakewood, Ohio, gave an impassioned endorsement of Mr. FitzGerald inside Lucas County Democratic headquarters, and blasted the current governor, Republican John Kasich.
"Governor Kasich has squandered Ohio's fragile economic recovery. We now rank 47th in job creation," Miss Kaptur said, citing a study by Pew Charitable Trusts.
She highlighted Mr. FitzGerald's experience as an FBI agent and his current job as executive of Cuyahoga County, where he has streamlined government and directed more money into education, according to Miss Kaptur.
The endorsement was far from unexpected, since Mr. FitzGerald is the only Democrat competing for the nomination to run against Mr. Kasich in 2014. Mr. FitzGerald said this was his first official endorsement, though he said some 100 public officials have announced their support of his candidacy.
Miss Kaptur and Mr. Kasich were colleagues across the aisle when Mr. Kasich was a congressman from the Columbus area from 1983 to 2001. Miss Kaptur's career in Congress also started in 1983.
"I have known John for a long time. I really can't help myself - I like the guy to some extent. But I certainly can't support someone whose priorities are so out of step with Ohio's middle-class families," Miss Kaptur said.
Miss Kaptur was backed up by about 25 local Democrats, including Lucas County Auditor Anita Lopez, who is one of two Democrats running for mayor, along with Toledo City Councilman Joe McNamara. Miss Kaptur said she'll endorse a Democrat after the primary.
Lucas County Republican Chairman Jon Stainbrook said Mr. Kasich has turned the state around, and said he acted quickly to make sure highway improvements were made to help Chrysler expand the Jeep assembly plant in Toledo.
"Ed FitzGerald is the only candidate they could find to run against a sitting governor who has high approval numbers from Democrats and Republicans," Mr. Stainbrook said. He said Mr. Kasich has made good on his promises, unlike Congress - where Miss Kaptur serves - which, he said, is mired in "bickering and squabbling" and unable to do the nation's business.
Contact Tom Troy at tomtroy@theblade.com or 419-724-6058 or on Twitter at@TomFTroy.
Guidelines: Please keep your comments smart and civil. Don't attack other readers personally, and keep your language decent. Comments that violate these standards, or our privacy statement or visitor's agreement, are subject to being removed and commenters are subject to being banned. To post comments, you must be a registered user on toledoblade.com. To find out more, please visit the FAQ.