Lisa Sheets of Lambertville irons a quilt made by the Quilts of Compassion sewing group. This year the group will donate quilts to tornado victims in Joplin, Mo. Ms. Sheets, who traveled to Missouri in June, said the experience left a lasting impression.
The Blade/Amy E. Voigt
Enlarge | Buy This Image
LAMBERTVILLE -- Lisa Sheets, a lifelong Monroe County resident, has been quilting like mad.
That's because she belongs to a volunteer group that donates quilts to the stricken. The group, called Quilts of Compassion, has made the tornado victims of Joplin, Mo., their special cause for the next year. It visited the town in June to distribute quilts and plans another trip later this month.
Ms. Sheets went on the June trip. She won't be making the return journey this month, but plans to go again in November. She said her experiences in Joplin left a lasting impression.
"It was one of the most touching things I've ever seen. People were in shock. All you had to say is 'How are you doing?' and the stories just poured out," said Ms. Sheets, who lives in Lambertville.
Quilts of Compassion members are busy in their Centennial Road workshop in Sylvania Township stitching together what they hope will be 300 quilts they can present to residents of Joplin when they return Aug. 24.
The deadly tornado tore through the city May 22, cutting a swath of destruction 28 miles long and a mile wide. The storm killed 134 people and injured several hundred.
Ms. Sheets and Quilts of Compassion's executive director and founder Janice Grimes were in Joplin from June 3 to 5 distributing more than 200 prayer quilts to patients at Freeman Medical Center.
Since then, the city has been recovering, but tornado victims continue to need help, Ms. Grimes said.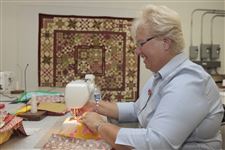 Rita Thomas, a Sylvania resident and quilter who will be making the trip to Joplin this month, stitches quilt pieces together at the group's workshop.
The Blade/Lisa Bernheim
Enlarge | Buy This Image
"The city's other hospital took a direct hit from the tornado and will be torn down," Ms. Grimes explained. "Freeman is at 120 percent capacity. We have made a one-year commitment to help them, and want to make trips every two months to support them."
Quilts of Compassion made a difference in Joplin, according to Todd Decker, pastoral care director of the Freeman Health System, of which the medical center is a part. He survived the tornado himself, and described the weeks after it hit as "kind of a blur." But he said the Quilts of Compassion members inspired confidence from the start.
"I instantly knew what kind of people they were and started getting positive feedback about them," he explained. "One of my chaplains said we should make them chaplains because they were doing such great work with the patients. A lot of groups came here after the tornado, and not all of them I could trust. These people I could trust. In addition to visiting patients and giving quilts, they did a great job of caring for folks."
Mr. Decker said coming from outside Joplin gave the quilt makers a valuable perspective.
"They listened to a lot of stories. The stories started to wear us down pretty quickly, and having someone come in from outside gave us some fresh ears," he said.
Ms. Grimes started Quilts of Compassion in 1999, after being in a serious car accident that put her in a Grand Rapids, Mich., hospital for a year.
Janice Grimes, executive director of Quilts of Compassion, founded the group in 1999 after being hospitalized for a year with injuries she suffered in an auto accident.
The Blade/Lisa Bernheim
Enlarge | Buy This Image
"A chaplain gave me a quilt, and it had a profound effect on my recovery," she recalled.
She had never sewed, but learned to do so by taking instruction from the store where she bought a sewing machine. Today she oversees a workshop full of sewing machines operated by close to 200 volunteer quilters.
"We're 100 percent volunteer. I can't say enough about our volunteers. They're 10 years old to 92," she said. "Nobody is paid. All donations go to the quilting ministry. We completely rely on support."
The quilts themselves come in different sizes for different uses. Some are lined with fleece for additional warmth, and some are lap quilts that fit over a wheel chair.
Rita Thomas, a Sylvania resident and quilter who will be making the trip this month, said she just wants to offer help in Joplin.
"We'll be there wherever we're needed. You take one path and end up in a place you never anticipated," she said.
Guidelines: Please keep your comments smart and civil. Don't attack other readers personally, and keep your language decent. Comments that violate these standards, or our privacy statement or visitor's agreement, are subject to being removed and commenters are subject to being banned. To post comments, you must be a registered user on toledoblade.com. To find out more, please visit the FAQ.