Cedar Fair CEO Matt Ouimet stands near a few of the new animatronic dinosaurs that will be on exhibit at Cedar Point this year.
The Blade/Amy E. Voigt
Enlarge | Buy This Image
THE OUIMET FILE
Name: Matthew A. Ouimet (pronounced We-met)
Age: 54
Born: Cooperstown, N.Y.
Education: Binghamton (N.Y.) University
Family: wife, Kathleen; one son and one daughter
RESUME:
President and chief operating officer for Corinthian Colleges from July, 2009, to October, 2010; executive vice president, operations, from January, 2009, to June, 2009.
President, hotel group for Starwood Hotels and Resorts Worldwide from August, 2006, to September, 2008.
President, Disneyland Resort from October, 2003, to July, 2006.
President, Disney Cruise Line, 1999 to 2003.
Senior vice president and chief financial officer, Disney Development Co., senior vice president of finance and business development, Walt Disney World Resort, executive general manager of Disney Vacation Club and Disney Wide World of Sports from 1989 to 1999.
SANDUSKY -- Walking along Cedar Point amusement park's Midway and arriving at a spot where a new light-lasers-and-fireworks show will entertain guests this June, Matt Ouimet, Cedar Fair LP's ebullient new chief executive officer, can no longer contain himself.
"Isn't that a great view?" he says, gazing across a plaza where a large video screen has been removed to reveal the towering Millennium Force roller coaster bathed in the sunlight of a cloudless blue sky.
"We really should be open today. What a great day," said Mr. Ouimet, not bothering to conceal his pride in Cedar Point, which this day is devoid of people other than a handful of workers painting, repairing, and primping the grand old amusement park for its May 12 opening.
The excitement in Mr. Ouimet's voice is audible, the bounce in his step visible, and the twinkle in the eye of the former Disney Co. executive perceptible.
Although he spent 17 years as a trusted Disney lieutenant running its historic Disneyland theme park and popular cruise line, it is clear that in Sandusky, the 54-year-old Mr. Ouimet knows he finally is captain of his own ship: Cedar Fair, the nation's third-largest amusement park chain with 11 parks, including the flagship Cedar Point, plus six water parks and five hotels.
Mr. Ouimet, who also spent short stints running Starwood Hotels & Resorts Worldwide and Corinthian Colleges, was chosen last June to be president of Cedar Fair and heir-apparent to longtime company executive Dick Kinzel. When Mr. Kinzel retired on Jan. 1 after 25 years with Cedar Fair, Mr. Ouimet gained the CEO title and the keys to the candy store, so to speak.
The new CEO's acumen as an amusement park executive is well documented -- he developed and implemented a comprehensive strategic plan leading to a significantly improved and sustained performance for Disneyland's 50th anniversary in 2005. And the Cedar Fair board clearly found in Mr. Ouimet a kindred replacement for Mr. Kinzel, whose fondness for walking the midway and riding the roller coasters revealed him to be both a top executive and a big kid at heart.
Mr. Ouimet acknowledged that if a staff meeting were to drag on too long, he isn't above calling a halt and taking the participants into the park to ride a coaster, something he did one day last summer.
Above all, the new CEO said that he's honored to be Cedar Fair's new custodian and plans to take the company's parks in directions they may not have gone before to enhance their value not just for customers, but also investors.
"A person once told me that there's a difference between revering history and respecting history. Respecting history reminds you to look at what's really important and learn from it," Mr. Ouimet said. "Revering it means you never change anything, and if you don't make change … we won't be here in 20 or 30 years.
"And so I think that's the delicate balance. When you've got such a loyal audience, you know you're always going to have somebody disappointed that the ride they rode as a 5-year-old is no longer here," Mr. Ouimet said. "But I hope they're equally excited or more excited about what replaced it. I think that's one of the hardest parts of my job is to try to figure out where change is good and where legacy is good."
Though a confirmed Disney disciple -- he still slips up and calls employees "cast members" about half the time -- Mr. Ouimet said he has no plans to Disney-fy Cedar Fair.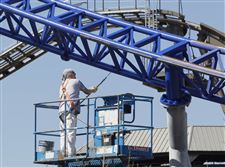 The Millennium Force gets some new paint. A string of unseasonably warm days has helped maintenance workers get a jump-start on sprucing up the park before it opens on May 12.
the blade/amy e. voigt
Enlarge | Buy This Image
Instead, he said, he plans to use lessons he learned from the premier theme-park firm wherever applicable at the Sandusky-based chain.
"It's funny, but when I was considering this job I went back to the history here -- there's some wonderful books on it -- and what you realize is there's a lot of parallels," Mr. Ouimet said. "I think the other thing that's common here is the value system of the people who visit us and the people who work here," he said.
"Disney was really founded on Midwestern values, and I think that, clearly in the Cedar Fair portfolio, that's part of the DNA both for our guests and for our employees. That's maybe why I feel as comfortable as I do here," he said.
Last week Mr. Ouimet was having a hard time staying at his desk, the warm weather and sprucing up of Cedar Point beckoning him into the park like a siren's song.
"So the good news is the weather was, I'm told, unseasonably warm. Clearly we've been able to get ahead of our maintenance and cosmetics and annual maintenance scheduled," he said. "So the Millennium Force is almost fully painted, the Blue Streak is almost done, the Giant Wheel is almost done."
However, special lighting for the park's new nighttime show, "Luminosity: Ignite the Night," is proving more complex than he imagined.
"That will be a little bit of crunch time, but that show doesn't launch until the beginning of June, so I've got a little bit more time to work at night. But obviously when I open the park in May I don't want the consumer to see a lot of construction," Mr. Ouimet said.
At Disneyland, Mr. Ouimet and other Disney execs always were aware of Cedar Fair and its southern California venue, Knott's Berry Farm. Disney never viewed Knott's as a true competitor, Mr. Ouimet said, but it was always jealous of the Sandusky company's ability to turn high profits.
"I studied Cedar Fair on and off for 20 years. They were known -- and I give Dick Kinzel the credit for this -- as great operators. … We studied them and marveled at the quality of the product they could deliver and still deliver the margins they delivered, because that was, candidly, where my focus was," Mr. Ouimet said. "How could they do this and still deliver the returns they did to their investors?"
Mr. Ouimet admits he "never fully cracked the code."
Now in control of Knott's, Mr. Ouimet admits it would be nice if Disney executives looked his way and wonder how he does it. "I hope my former colleagues feel a little pressure. I know that they're paying a little more attention," he said.
If Disney officials are paying attention they might recognize a similar philosophy, a "kind of emotional sentiment" that Mr. Ouimet plans to emphasize at Cedar Fair.
"We are successful here if I can get you to come with your family and friends and laugh and smile. I've created value for you and value for my shareholders," Mr. Ouimet said. "And whether it be Cedar Point, Knott's, Kings Island, or Kings Dominion, that's really our mission."
Mr. Ouimet is convinced laughs and smiles go best with friends and family. And while Cedar Fair parks have been good at providing thrills, a friend and family connection may have been somewhat overlooked.
In response, it will launch a new marketing campaign, "Thrills Connect," to show people that they can go to a Cedar Fair park, never get on a coaster, but still have a great day with family.
"We want to remind people that time with family, time with friends is precious. This is the place to spend it," Mr. Ouimet said.
Over time, Mr. Ouimet said he plans to build more rides that families, from a young child to a grandmother, can enjoy together.
"I think that we're known for thrill rides. I think we will always be known for thrill rides. But there clearly is an opportunity to expand the offering for children," Mr. Ouimet said. "So you'll see us over time try to make sure we're adding enough for the young families. Because if I can get you to come at that age …you start your relationship with us earlier, you stay with us longer. I'm absolutely convinced of it."
Several Cedar Fair's parks have room to add family rides, but Cedar Point, built on a peninsula, has always been land-challenged. But Mr. Ouimet said the problem isn't huge. There are underutilized areas, and employee dormitories on the grounds could be relocated off the peninsula, he said.
Mr. Ouimet said the most under-used attraction at Cedar Point is its beach -- which was the focus of the park when it was founded in 1906.
"You can come here and not even know we have a beach. So one of the things we're going to encourage people to do is make more use of the beach, because it's nice," said Mr. Ouimet, adding that he plans to add cabanas, tents, chairs, and other recreational services this summer to lure more visitors to the Cedar Point beach.
Mr. Ouimet could have started his tenure as CEO slowly, but he seemed determined to hit the ground running when his hiring was announced last June. The company, which had record revenues of $1.028 billion, profits of $72.2 million, and a record attendance of 23.4 million in 2011, had already announced last year a new $1 million attraction, Dinosaurs Alive!, for 2012 at its flagship Cedar Point park. The attraction, which made its debut last year at Kings Island near Cincinnati, is being duplicated at three other parks.
But Mr. Ouimet wanted customers to have more.
He ordered the creation of Luminosity, a mix of lights, lasers, fireworks, music, and dancing that reportedly will cost $6 million and, he hopes, entice people to stay longer in the park. If the show performs as expected, it will be duplicated next year at other parks.
He also asked for and got two new Peanuts characters -- Woodstock and Franklin -- to delight children at the park's Camp Snoopy area, and he will have a Snoopy show to fill the Luminosity stage in the daytime.
The former Disney executive also turned his focus on three other items he hopes will make a difference: food, marketing, and ecommerce.
Cedar Point used to be known for its delicious french fries, but the recipe was labor-intensive. So several years ago it abandoned its popular recipe in favor of quicker service.
"[Operations vice president] Phil Bender, who runs about half of our parks for us, is now bringing back the original recipe at all the parks. …It will take us longer, but they should taste really, really good," Mr. Ouimet said.
"The food in the parks, to some degree, has been an afterthought. So this year we're going to have in our major burger places all fresh burgers, never frozen," he said. "So with those, the french fries, and we've got some other little surprises that we're going to do for the food, we're trying to make that part of it a little better."
Marketing, in Mr. Ouimet's view, wasn't a Cedar Fair strength. So he created a chief marketing officer position and filled it with Kelly Semmelroth, a former Disney colleague.
"I needed someone like Kelly, who can take what I would call modern marketing techniques. She is very much into CRM -- customer relationship marketing -- which is, 'How much do I understand my consumers?' 'How do I capture their information?' 'How do I communicate with them in the digital era?' "
If the individual parks gathered that information it would have produced 11 databases, Mr. Ouimet said. But Ms. Semmelroth can centralize data to find economies of scale, yet still allow each park the independence to do what is needed for their markets, he added.
An area where Mr. Ouimet already has made progress is ecommerce. Previously, each park had its own Web site and methods of ticket sales. But late last year the new CEO standardized the Web sites so they can offer discounts on tickets and other premium services.
"From a system technology standpoint, the rides were as technologically advanced as anything you'll see in the industry. From a back of the house standpoint, we were probably behind the curve," Mr. Ouimet said of Cedar Fair's previous technological efforts.
The growth of smart phones and other devices has necessitated new ways to reach customers, he said.
"The way I see it today is, before you grab your car keys to go on a road trip to Cedar Point, you grab your keyboard to see what you're going to do and what tickets you're going to buy," he said. "So clearly, today when somebody sees our commercial on television, I guarantee you the vast majority are going to the Web site, and I needed that Web site to be able to be of value to the consumer."
In return, Cedar Fair can communicate with its guests in ways it couldn't before, the CEO added.
"I can now talk to every kid instantly, and I think that's how you balance out the technology side. I guarantee you we'll come up with things we haven't even thought of yet using technology for people to enjoy the parks better, to stay in touch with each other."
Contact Jon Chavez at: jchavez@theblade.com or 419-724-6128.
Guidelines: Please keep your comments smart and civil. Don't attack other readers personally, and keep your language decent. Comments that violate these standards, or our privacy statement or visitor's agreement, are subject to being removed and commenters are subject to being banned. To post comments, you must be a registered user on toledoblade.com. To find out more, please visit the FAQ.