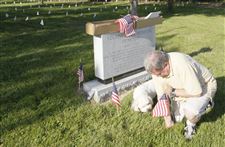 Gary Wirzylo, of Toledo, places flags at the sign for the unknown veterans in the field.
THE BLADE/JETTA FRASER
Enlarge | Buy This Image
Jane Weber has seen the notations "worry over the war," "gassed during the war" on patient records from the former Toledo State Hospital.
She knows some returning soldiers likely suffered from what is known today as post-traumatic stress disorder, but she also knows many veterans who were admitted to the psychiatric hospital in the late 1800s and early 1900s were undoubtedly brought there for physical ailments or age-related conditions like dementia.
Some veterans lived — and died — at the hospital. At least 16 were buried in one of the hospital's two cemeteries. They are in many ways unknown soldiers.
While the veterans buried in the cemeteries all had names and families and histories, they lie among the forgotten — nearly 2,000 people who died at the state hospital between 1888 and 1973 and went unclaimed by family or friends.
The Toledo State Hospital Cemetery Reclamation Project is working to change that situation.
PHOTO GALLERY: Toledo State Hospital Cemetery project
"Our primary goal is to honor everybody," said Mrs. Weber, a retired employee of the hospital and volunteer with the cemetery project. "With the veterans, we would love to find out as much as we can about them like we want to find out as much as we can about everyone, but it's especially important with the veterans."
Specifically, the group hopes to one day erect federal burial markers at each of the veterans' graves. The bronze markers would be flat to the ground and located next to the original numbered stones — some of which have been located, some of which are still beneath the surface of the ground.
The committee wants to keep the cemeteries looking much as they did originally, although they are slowly adding appropriate touches — a monument and flagpole at the old cemetery on Arlington Avenue, historical markers from the Ohio Historical Society there and at the "new" cemetery on what is now the University of Toledo Health Science Campus, the former Medical College of Ohio. Eventually they hope to have panels listing all 1,994 names of those buried in the humble cemeteries.
Gary Wirzylo, a member of the cemetery committee who works as a nurse supervisor at what is now the Northwest Ohio Psychiatric Hospital, said it's important to make sure the veterans are remembered and respected.
"They fought for the country. They served our country. That's the reason we're still able to maintain our freedom," he said.
While the index card-sized stones that mark each grave are etched only with a number, Mr. Wirzylo said that behind each number is a name and a person and a story.
"In the case of the veterans, here's somebody who lived [at the state hospital] for whatever reason who obviously was capable enough to serve his country and serve the people of the nation," he said. "He should be recognized."
Ted Spear of Flint, Mich., agrees.
He was researching his family tree when he came across his great-great-great grandfather, Sherman Hinds, who served in the Civil War and was buried in a Kalkaska, Mich., cemetery. Mr. Spear also found the name of Sherman Hinds' brother, Pvt. Orange Linzie Hinds, who served in Company F, 14th Regiment, of the Ohio Volunteer Infantry during the Civil War. He didn't know had happened to him, though.
"I knew he was a veteran. I wanted to know where he was buried, if he had a marker," Mr. Spear said. "I wanted a marker from the [Veterans Administration] installed in honor of his service."
Through conversations with a distant cousin who also does genealogical research, he learned that Mr. Hinds was admitted to the Toledo State Hospital not long after the death of his mother in 1872. Another brother, Alanson A. Hinds, signed an affidavit stating that Orange Hinds was a danger to himself and the community.
Mr. Spear suspects Mr. Hinds may have suffered from PTSD from his wartime service between 1861 and 1862, but he has no way of knowing for sure. He said he learned about the cemetery reclamation project on the Internet and contacted the committee, which was unaware Mr. Hinds was a Civil War veteran.
"They just had a name and a grave number," Mr. Spear said.
His great-great-great uncle is buried in grave No. 248 at the old cemetery, and like everyone buried there, he has a story too.
"Orange Linzie Hinds was born in 1839 in Hiram Township in Portage County, Ohio, and died in May, 1901, at the Toledo State Hospital, age 62," Mr. Spear wrote in an email. "He was the son of Robert and Roxana (Canada) Hinds of Richfield Township in Lucas County, Ohio. He was the eldest of nine children. He married Harriet Alexander, July 20, 1863, in Lenawee County, Michigan. They never had children. He left behind only nieces and a nephew to honor his memory and his service during the Civil War."
Since the cemetery reclamation project began in 2005, volunteers have unearthed approximately 250 of the 900 gravestones at the old cemetery and more than 900 of the 1,100 stones at the new cemetery.
For years the simple grave markers had been covered by dirt and grass, making the cemeteries virtually unnoticeable by passers-by.
Mrs. Weber said she has not been able to find out why the stones were inscribed with numbers rather than names, though she and other committee members suspect it's because of the stigma attached with being a patient in a facility once known as the Toledo Asylum for the Insane.
It's ironic, Mr. Wirzylo said, because many of the patients were not hospitalized for severe mental illness. Some were infants and children. Some were simply suffering the ravages of old age.
"There are many people that, by today's standards, wouldn't be there," he said. "They had a physical disability perhaps or another type of illness. Everybody that society couldn't deal with on the outside was here."
Tracking down information about the patients buried in the two cemeteries is difficult. Getting information about patients who served their country in the armed forces has been challenging as well.
While the hospital's burial log noted 12 of the men were veterans of World War I or World War II, four Civil War veterans — including Mr. Hinds — have been identified through family connections.
"Our list of family that has found us is increasing all of the time. We have so many people out there who are doing genealogical studies," Mrs. Weber said. "We have documents from families who have said, 'We've been looking 25 years.' One family said, 'We've been looking 50 years.'?"
Larry Wanucha, housing support specialist for Neighborhood Properties, Inc., and the founding member of the cemetery reclamation project, said people hear about the effort "and start thinking, well maybe that's where Uncle Bill went."
The names of those interred at the two cemeteries now can be found on the project's Web site, toledostatehospitalcemetery.org, by clicking on the "genealogy" tab.
Mr. Wanucha said the cemetery project, which is supported by the National Alliance on Mental Illness of Greater Toledo, is about more than cemeteries.
"Our goal is to advocate for equal access to treatment for everybody who needs it as well as to encourage and support the people who are in treatment so that we can all work together to have a quality of life that the treatments can provide and do provide," he said.
Lifting the veil from the cemeteries is an important part of that.
"It seems to me as long as we allow the cemeteries to be lost and anonymous, hidden, then we continue to hide disabilities," Mrs. Weber said.
Contact Jennifer Feehan at: jfeehan@theblade.com or 419-724-6129.
Guidelines: Please keep your comments smart and civil. Don't attack other readers personally, and keep your language decent. Comments that violate these standards, or our privacy statement or visitor's agreement, are subject to being removed and commenters are subject to being banned. To post comments, you must be a registered user on toledoblade.com. To find out more, please visit the FAQ.