Last in a series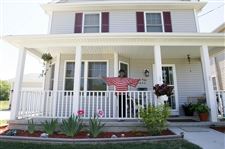 Lisa Conner at her home in Toledo. Ms. Conner lives in tax credit housing developed by United North Community Development Corporation.
The Blade/Amy E. Voigt
Enlarge | Buy This Image
With more than 140 boarded-up or vacant tax-credit homes plaguing the city, it's easy to forget that 675 others are occupied.
One of them is Lisa Conner's.
Ms. Conner, who lives in a cozy four-bedroom house on Edison Street in North Toledo with her two teenage sons, is exactly the kind of person tax-credit housing is supposed to help.
"I've always wanted to be a homeowner, but it had been hard because of finances, or credit, or just not having enough," said Ms. Conner, an employee of the housekeeping department at the University of Toledo Medical Center, the former Medical College of Ohio Hospital.
A little more than two years ago, she applied to live in a tax-credit house being developed by United North, a North Toledo community development group. After she was accepted, she went to the site of her future home nearly every other day to check the builders' progress.
"I think they thought I was crazy," she said with a laugh.
She has been living in her home for about two years now. After renting the house for 15 years, she will have the opportunity to purchase it.
"There are people like me that will take care of their property," she said. "I take care of it like I own this house."
RELATED ARTICLES:
Boarded Tax Credit Properties
Tenant screening
Terry Glazer, executive director of United North, said tax-credit projects work under the right circumstances — but community development groups should carefully screen potential tenants and must manage the properties well.
United North has developed five tax-credit housing projects in Toledo's north end. A Blade analysis found that projects by other developers have vacancy rates of 30 to 45 percent, but United North's is about 2 percent. Only three of its 131 houses were vacant as of the end of 2011.
Selecting good tenants is critical, Mr. Glazer said.
"We might even visit people's [current] homes, certainly look at their rental history, credit checks, criminal background checks. The important thing is that you need to check that out. You need to make sure you screen your tenants well."
The group also strives to educate tenants by teaching renters to become homeowners and making sure people understand financial basics.
"We go out and visit our families to try to prevent problems. Showing them how to change filters in the furnace, a little bit about property maintenance," Mr. Glazer said. "A lot of people come here to pay their rent; they don't have bank accounts. We have a financial opportunity center. If someone is getting into trouble, we try to refer them to the financial opportunity center where they can get some financial coaching."
Reliable management
Having a reliable property manager is important to Stacy Madden, who lives in another United North-developed home with her son and daughter.
Ms. Madden previously lived in a house on Franklin Street developed by the Warren Sherman Area Council that she described as riddled with problems. The last straw came when electrical problems occurred in the house — the lights would dim when people walked through — and when she had to replace her own door after a burglary.
She was thrilled to be able to relocate to a home on Moore Street in North Toledo.
"I love this home," she said. "It's all that I dreamed of. I think we can grow here," she said.
Ms. Madden also likes how she and her neighbors came together with a block party when they moved in, and help each other out with yard work duties.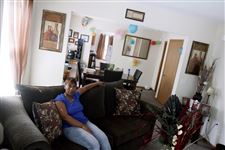 Stacy Madden, 35, poses in the living room of her 2-year-old home which was developed by the United North Community Development Corp.
Her experience highlights two qualities that set United North apart among other organizations.
For one, it has a strong focus on community organizing. Residents know the group well and develop a relationship with its staff. Last month, for example, United North organized a rally to advocate for local hiring at Jeep. As a result of such advocacy, the group's neighborhood meetings often draw crowds in the hundreds.
Second, United North has taken the unprecedented step of managing its own properties, rather than hiring a professional third-party property management company.
In many instances, investors in tax-credit projects require outside management because they are wary of community developers getting into such a specialized field. But even before United North was granted an exception, Mr. Glazer said one of the organization's 12 full-time employees was dedicated solely to managing the property, making the transition somewhat natural.
Another group with a strong record is Neighborhood Housing Services of Toledo. It has two projects consisting of 53 homes, five of which were vacant at the end of 2011. It is in the process of taking over another project from the Toledo Old Towne Community Organization.
Bill Farnsel, the group's executive director, said financial stability, national oversight, and evaluation are critical components of good community development organizations. Groups that have collapsed consistently lack those three elements, he said.
"Tax credits bring a lot of money to nonprofits, but that's not a sustainable method of sustaining your organization," he said.
Mr. Farnsel said groups need a diversity of funding sources, such as tax credits, local government funding, revenue-generating activities, private fund-raising, or assistance from a national affiliate.
NHS also received oversight from its national affiliate, NeighborWorks, which reviews the local group on a regular basis.
And like United North, NHS spends significant time out in the community, although for a different purpose. Rather than activist-based community organizing, NHS conducts surveys in targeted areas to measure resident satisfaction. The process generally consists of a baseline survey and a follow-up survey three years later.
"Typically, we target an area of 400 to 600 households and try to conduct 200 to 250 surveys," he said. "We're wearing out shoe leather conducting in-your-living-room kind of surveys."
The reason: "If you haven't moved the satisfaction meter, you've failed," he said.
Differences on focus
Keith Burwell, executive director of the Toledo Community Foundation, said he discourages neighborhood community development corporations from focusing on housing in the first place.
"My question for CDCs is, 'What are you doing for job opportunities?'?" he said. "Job opportunities is where CDCs ought to start their work from, not housing."
That's a position shared by Mayor Mike Bell. "You can give [residents] a house, but if they don't have jobs, they aren't going to be able to keep them," he said. "We have to create the appropriate economic development in our city that will put people back to work."
That point of view often has put him at odds with community development groups — including United North, which sued the city this year over the sale of a downtown building from which United North claimed it was owed proceeds.
Still, the mayor acknowledges that some low-income tax-credit housing projects have benefited the city.
"I would say the program is working, but we have to address the portion of the program that isn't working," he said. "The biggest solution is sitting in a room and figuring out best practices of the ones who have been successful."
The dire state of some of the houses has prompted the city of Toledo to find other groups to take over some of the projects with the highest vacancy rates, such as those developed by ONYX, the Warren Sherman Area Council, and the Toledo Community Development Corporation.
The Department of Neighborhoods is concerned about several tax-credit projects in different neighborhoods, said Director Lourdes Santiago. "It is a top priority to bring these under responsible management."
Ms. Santiago said she did not want to discuss further details for fear of jeopardizing the negotiations, but several sources confirm the city is pushing for ONYX, a nonprofit community development organization that owns 32 boarded-up tax-credit houses, to transfer ownership to the Lucas Metropolitan Housing Authority.
"The community is not well served when the properties are vacant, damaged, and poorly managed," she said.
Margaret Brown, executive director of Warren Sherman Area Council, said her group would oppose the city stepping in to appoint another group to run the properties it developed. Nearly 40 percent of those houses are now vacant.
"We're doing as good a job as we believe anyone else could," she said.
Future support?
The preponderance of vacancies and other problems at several tax-credit projects in Toledo has some questioning if the city should withhold support for such projects.
Councilman Adam Martinez, chairman of the neighborhoods committee, plans to propose a moratorium on such projects; a hearing on the issue is scheduled for Wednesday.
But many say it would be a loss for the city to give up on these developments completely.
"Each house represents a vacant lot that's been reused," Mr. Farnsel said. "There is local labor and materials. It creates jobs and attracts private development. There is a low-income family that has gotten grade-A shelter. It's a shame we aren't using these resources as well as we can, but it's a hell of a deal for the city."
Mr. Farnsel pointed to a proposed NHS development called Legacy Hills, which will consist of 40 tax-credit homes. The project has been preapproved by the Ohio Housing Finance Agency to receive more than $10.3 million in tax credits, which NHS will use to raise $9.5 million in equity.
But that's contingent on support from the city, Mr. Farnsel said. A moratorium would be a "kiss of death" for the project, he said.
"The city is investing $650,000 and getting $9.5 million in equity," he said. "Tax-credit housing is a good deal."
Hugh Grefe, director of Local Initiatives Support Corp., which has partnered with community developers, including ONYX, to help finance their projects, said its important to keep criticisms of the tax-credit program in perspective.
"We've just experienced the biggest real estate meltdown since the 1930s. Don't expect nonprofits to outperform the private sector," he said. "This is not easy work. This is the hardest kind of housing development you can do. Of course you are going to have some setbacks. But that doesn't mean you give up, and we're not going to give up."
Ms. Conner, in North Toledo, said she believes ending the program would hurt people like her who have limited means but will care for a home and build a neighborhood.
"I think it's a great program," she said, standing in her doorway, overlooking her small front porch on a recent afternoon. "There's a lot of people that want homes and want to fix them up and treat them as their own. It's giving them a chance to have something."
Contact Kate Giammarise at: kgiammarise@theblade.com or 419-724-6091.
Guidelines: Please keep your comments smart and civil. Don't attack other readers personally, and keep your language decent. Comments that violate these standards, or our privacy statement or visitor's agreement, are subject to being removed and commenters are subject to being banned. To post comments, you must be a registered user on toledoblade.com. To find out more, please visit the FAQ.