The President buys fruit at Bergman Orchards farm market in Port Clinton.
ASSOCIATED PRESS Enlarge
OAK HARBOR, Ohio -- Marilyn Appelhans, 82, is used to getting together with four friends on the first Thursday of every month for lunch and a game of Pinochle at Kozy Corners, a small, family-owned restaurant in Oak Harbor where the walls are covered with paintings of old-fashioned cars and 1950s-style diners.
Yet it's safe to say this Thursday's lunch is one that will stand out from the rest -- Ms. Appelhans of Graytown, Ohio, shared a piece of strawberry pie with President Obama when he made an unexpected stop at the restaurant on his campaign trip through Ohio.
"He gave me a kiss," Ms. Appelhans said with delight. "I can't wash the side of my face!"
President Obama stopped at the restaurant following a drive through Genoa, where crowds of locals lined up along 4th Street with lawn chairs, American flags, and hand-held cameras to watch his motorcade pass by. After the visit to Kozy Corners, he made another unexpected appearance at Bergman Orchards in Danbury Township just west of Sandusky, where he purchased fruit and 12 ears of corn and chatted with customers. He also made previously scheduled northwest Ohio stops in Maumee and Sandusky.
Kozy Corners, which has been owned by the Konieczny family since the early 1970s and usually seats up to 74, serves home-cooked meals for lunch, breakfast, and dinner on a daily basis.
RELATED ARTICLES:

PHOTO GALLERIES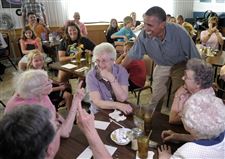 President Obama chats with diners at Kozy Corners in Oak Harbor, Ohio. Customers said Mr. Obama stopped at tables to shake hands and sign autographs, and he ate a cheeseburger, fries, and strawberry pie with extra cream.
ASSOCIATED PRESS Enlarge
"I think every small town has a place like this," said manager John Konieczny, whose father, Carl, started the business. Mr. Konieczny said he was told by Secret Service agents that the President was given a list of local restaurants when he landed in Ohio and chose Kozy Corners from that list.
While at the restaurant, customers said the President stopped at every table and shook hands with customers, answered questions, gave autographs, ate a cheeseburger and fries, and proceeded to share a piece of strawberry pie -- with extra cream -- with Ms. Appelhans and a young child who was there for lunch. Before leaving he signed the wall and wrote, "Thanks Kozy Corners -- great food and great people."
"He talked just like a normal person and was very down to earth," said Jim Krieger of Oak Harbor. "If you didn't know he was the President, he'd just seem like any other guy."
Mr. Konieczny said the restaurant, which often serves retirees and has regulars who visit two or three times a day, will add a special hot dog to their menu in honor of Mr. Obama, featuring the President's preferred topping -- mustard.
Volunteers Jane Morgan, left, and Diane Ostheimer lift an ice cream container as Kerin Hall, center, fills a dish for Elie Alda in Sandusky as they wait for the President.
THE BLADE/AMY E. VOIGT
Enlarge | Buy This Image
He believed the President's visit not only meant a great deal to the small restaurant but to the community as a whole. "It lifts everyone up," he said of the surprise stop. "Hopefully, the good feeling will last a long time."
Even for those who gathered across the street from the restaurant and only got a brief glimpse of the President, his visit to the small town still resonated.
"If nothing else we're going to get to breathe the same air he's breathing," said Pam Kleinhans, an Oak Harbor resident who came with her husband, Vern, and 9-year-old granddaughter, Emma, to catch sight of Mr. Obama. "He's at Oak Harbor -- he's at our home! This is exciting for this town."
The sentiment was shared by Valerie Sandy, a salesman at Bergman Orchards, who said the family-owned farm found out about the visit just a few minutes before the President arrived.
"It was nice to know that he was able to visit a local farm," Ms. Sandy said. "He wasn't just going to a big city; he actually stopped in a small town."
Contact Madeline Buxton at: mbuxton@theblade.com or 419-724-6368.
Guidelines: Please keep your comments smart and civil. Don't attack other readers personally, and keep your language decent. Comments that violate these standards, or our privacy statement or visitor's agreement, are subject to being removed and commenters are subject to being banned. To post comments, you must be a registered user on toledoblade.com. To find out more, please visit the FAQ.