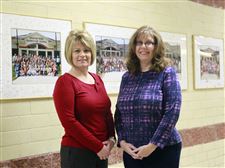 Regina Whalen, left, and Amy Driehorst, are spearheading a campaign to raise $80,000 annually over three years so that the Bedford schools won't have to drop one of its two resource officers from the Monroe County Sheriff's Office.
The Blade/Amy E. Voigt
Enlarge | Buy This Image
TEMPERANCE -- The fund-raising campaign to retain a school resource officer in the Bedford Public Schools will hold its biggest event to date Sunday at the Bedford Hills Golf Club, 6400 Jackman Rd.
The fund-raiser is a golf scramble, in which players tee off on each hole, the best of the shots is selected, and the players play their second shot from that spot. The process continues until the ball falls into the cup.
"We're really looking forward to having a great time, rain or shine," organizer Regina Whalen said.
BSP CARES, an acronym for Bedford Students Protected through Combining Area Resources for Educational Safety, is a nonprofit group formed by two mothers in the school district after the board of education voted to drop one of the schools' two full-time county sheriff's deputies to help cut a projected deficit.
The women, Amy Driehorst and Mrs. Whalen, have helped to raise more than $26,000 so far, and presented the school board with a $20,000 check. The group needs to make a $20,000 payment at the start of each quarter through fund-raisers to retain Deputy Randy Sehl.
He and the other resource officer, Randy Krupp, are extremely popular with parents, students, and staff, and are credited with preventing fights and bullying, curbing drug abuse, and serving as role models.
Mrs. Whalen said the golf scramble also welcomes nongolfers. They can have lunch for a donation of $18.
Registration for the golf scramble starts at 7 a.m., with a shotgun start an hour later. The cost is $65 a person. The cost of a foursome is $240 if paid before the event. Checks should be payable to BSP CARES, P.O. Box 216, Lambertville, Mich. 48144.
For more information, email Mrs. Whalen at reginawhalen@aol.com.
Mrs. Driehorst noted that BSP CARES has another major fund-raiser set for Aug. 18: a reverse raffle at the Legacy Golf Club, 7677 New U.S. 23, in Ottawa Lake.
"There will be $3,800 in cash prizes and a grand prize of $2,000," she said. "We'll be auctioning off some exciting items such as [Detroit] Lions and Tigers memorabilia."
For more information, email her at adriehorst@gmail.com.
-- Carl Ryan
Guidelines: Please keep your comments smart and civil. Don't attack other readers personally, and keep your language decent. Comments that violate these standards, or our privacy statement or visitor's agreement, are subject to being removed and commenters are subject to being banned. To post comments, you must be a registered user on toledoblade.com. To find out more, please visit the FAQ.