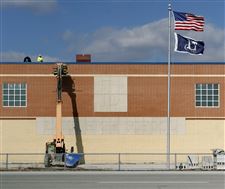 Workers raise materials to the roof of the new Lake High School, which is scheduled to open this fall. The previous school was among the many structures destroyed by the deadly tornado that struck in June, 2010.
The Blade/Andy Morrison
Enlarge | Buy This Image
When Lake High School students return to school this fall, they will not just begin a new school year, they'll start classes in a new, tornado-safe building as well.
The previous high school was destroyed June 5, 2010, when a tornado roared across Lake and parts of two neighboring townships, killing seven and leveling several homes.
Jim Witt, Lake Local Schools superintendent, said the new school was designed to protect students and faculty in the event of another devastating storm.
"We have some areas that are designated as tornado-safe areas," he said.
"We followed all the health codes and have taken precautions to make sure that if people are in the building, there will be an area that is as safe as can possibly be."
These safe rooms are in the building's interior and have thicker walls that can withstand more damage.
Lee Herman, Lake High School principal, said the ceilings and roof above parts of the school have been reinforced with a "concrete lid."
"There is concrete decking that not only separates the first floor from the second, but there is also a concrete deck part of the roof that's over the academic areas where our kids will spend the majority of their time," he said. "There is less of a likelihood of a tornado lifting that roof off now."
With the reinforced ceilings, any interior room without windows essentially becomes a safe room, Mr. Herman said.
The administration also will work with the Lake Township fire and police departments to identify the safest areas for students and faculty to take shelter during a storm.
Dan Tabor, head architect for the project, said he did not plan the building to be able to withstand a certain tornado level.
According to the Enhanced Fujita Scale, the June, 2010, tornado was classified as an EF-4, the second-highest rank.
"It's cost-prohibitive to design a building to be tornado-proof," Mr. Tabor said. "It's really not feasible to design a building to withstand a direct hit."
Mr. Tabor, architect and principal of the Collaborative Inc., said the safe rooms incorporated into the school were designed to protect those inside from future storms.
Construction on the new school, at State Rt. 795 and Lemoyne Rd, began in the fall of 2010 and has been progressing ahead of schedule.
The $25.7 million structure was built with funds from the Ohio School Facilities Commission, an insurance settlement, and a $500,000 donation from the Kohl's Cares contest.
School board President Tim Krugh said the major parts of the building are completed.
"I think they are for the most part dealing with final touches and finishing up the work," he said. "We will be getting the keys sometime in July."
Mr. Witt said the new school is modern in many ways beyond the reinforced safe areas.
"It is very conducive to 21st-century learners," he said. "It is equipped with more technology; for example, there are features in science labs and computer labs that will enhance our learning opportunities."
Other technological features include wireless Internet throughout the building, interactive projectors in every room, and a state-of-the-art auditorium.
After two years attending classes in a Northwood building with garage doors that lack windows, Mr. Herman said both the high school's students and faculty are excited to move back into a permanent school.
"Don't get me wrong, the building worked for us and our kids were able to stay together," he said.
"But it will be nice to be home."
The school is to hold a media open house Aug. 1 and a grand opening for the public on Aug. 5 with a small ceremony.
Contact Mel Flanagan at: mflanagan@theblade.com or 419-724-6087.
Guidelines: Please keep your comments smart and civil. Don't attack other readers personally, and keep your language decent. Comments that violate these standards, or our privacy statement or visitor's agreement, are subject to being removed and commenters are subject to being banned. To post comments, you must be a registered user on toledoblade.com. To find out more, please visit the FAQ.