Red-letter days return to Rudolph after all
Special stamp was to end; volunteers aid post office
12/3/2012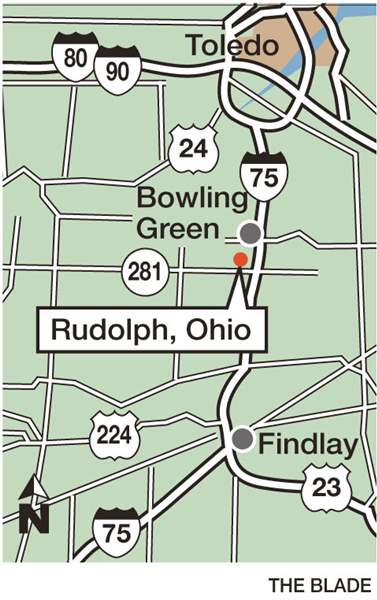 Postal receipts increase by $8,000 to $10,000 each December in Rudolph, Ohio.
RUDOLPH, Ohio — For a few hours this month, William Okuly will be volunteering his time, stamping a well-known reindeer's likeness on hundreds and hundreds of Christmas cards and packages.
"It's a tradition," Mr. Okuly, 66, said simply. "I've lived here 30 some years, and I figured I could help them out."
For the first time in its history, the Rudolph Post Office will be relying on community volunteers such as Mr. Okuly to cancel the 80,000 or so pieces of mail that flood the tiny post office in the weeks leading up to Christmas. In October, the office's staff was cut in half — from two to one — making the task of hand-canceling all that mail an impossible one for Charlotte Lamb, officer in charge.
"I struggled with it for a little bit, but then I just realized no matter what I wanted, it couldn't be done by me alone," Mrs. Lamb said.
She decided the long tradition would have to end even though she knew that would be a burden too.
Charlotte Lamb, officer in charge, works at the mail desk while a stuffed Rudolph the Red-Nosed Reindeer sits on top of the microwave in the Rudolph Post Office. Mrs. Lamb is the lone employee at the Rudolph Post Office.
"The day the office was transferred over to me, a guy came in with a stack of letters and asked if he could get the Rudolph postmark," she recalled. "When I told him we're not doing it this year, his mouth about hit the floor. … I thought, 'Man, I'm going to be doing this all month long'."
Word got out, and soon Liberty Township trustees were stepping in to see if they could help save Rudolph. State Rep. Randy Gardner (R., Bowling Green) got involved, and before long, Mrs. Lamb got the word: the U.S. Postal Service had graciously agreed to let her have volunteers 18 and older hand-cancel the mail from Dec. 1-24 with the once-a-year Reindeer Station postmark.
Mrs. Lamb said she's already had 50 to 75 people sign up to staff 2 or 2½-hour shifts. Many are local, some are from neighboring towns, some are postal workers who just want to help after they get off work. Mace Brumbaugh of Deshler stopped in with a bag full of Christmas cards to mail and said she'd like to sign up. Mrs. Lamb scheduled her for an afternoon shift later this week.
"I'm retired, and I always thought this was a great service," Mrs. Brumbaugh said. "That's why we're here — to help one another."
Past cancellation stamps at the Rudolph Post Office. More than 80,000 pieces of mail are expected to be cancelled from Dec. 1-24 in Rudolph, Ohio.
It would be a stretch to say the famous postmark boosts the unincorporated village's economy, though Mrs. Lamb said postal receipts increase by $8,000 to $10,000 each December. And the extra traffic definitely boosts Christmas — and community — spirit.
Mrs. Lamb and her rural route carrier, Karen Mason, bring in cookies each morning and keep coffee brewing for customers.
"Sometimes we get a line in the lobby, but people just talk to the person next to them, ask them where they're from, get a cookie and some coffee," Mrs. Lamb said. "There are no mean people, no complaints, no pushing or shoving. It all goes real well."
The Rudolph Post Office is at the corner of Mermill and Rudolph roads about 6 miles southwest of Bowling Green. It is open from 7 a.m. to noon Monday through Saturday and from 1 p.m. to 4:30 p.m. Monday through Friday. There also is a blue mail box out front for customers who arrive when the post office is closed.
"Everything that comes in between Dec. 1 and 24 will get the reindeer cancellation," Mrs. Lamb said.
Contact Jennifer Feehan at:jfeehan@theblade.com or 419-724-6129.