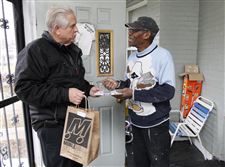 Mobile Meals of Toledo volunteer driver Jim Szymanski delivers a meal bag to Elgin Rogers, at his home Friday in Toledo.
The Blade/Dave Zapotosky
Enlarge | Buy This Image
Public officials and social service agencies accustomed to shrinking budgets, public layoffs, and an all-around foul economy for the last several years are bracing for a potential plunge off the so-called "fiscal cliff" that could erode recoveries made in places like Toledo.
The "cliff" — a mix of automatic government spending cuts called sequestration, along with tax increases — is set to take effect in January. It includes the end of extended unemployment benefits for about 47,000 Ohioans. A White House estimate says an average middle-class family of four would pay $2,200 more annually in taxes if the cliff is not averted.
"The fiscal cliff hits us awfully hard," said Larry Vasko, deputy health commissioner at the Toledo-Lucas County Health Department. "It is a very big impact on this community if it happens."
Among the federal programs the department administers that stand to see cuts include WIC, which provides nutrition aid for pregnant women and nursing mothers and infants, as well as a post-9/11 public health emergency preparedness program.
The potential loss of funds has Eric Walker, director of the Lucas County Workforce Development Agency, lobbying the offices of U.S. Rep. Marcy Kaptur (D., Toledo) and U.S. Sen. Sherrod Brown (D., Ohio), as well as working on other grants to look for more money. Mr. Walker expects a 10 percent reduction in the agency's $3.5 million budget next year if the nation goes over the cliff. That cuts into funds used to train Lucas County residents for jobs in information technology, as truck drivers, and as licensed practical nurses, he said.
Why it's happening
Sequestration came about as part of the Budget Control Act of 2011, which ended the showdown between Congress and President Obama over the federal debt ceiling. The law would enact $1.2 trillion in automatic spending cuts over the next decade, including nearly $500 billion in cuts to defense programs and $500 billion in cuts to nondefense programs that affect health, education, and human services.
"This seems extremely abstract to most folks. But it has real-life consequences," said Lisa Hamler-Fugitt, executive director of the Ohio Association of Foodbanks.
If Washington hasn't worked out a deal by month's end, the sequestration cuts would affect some other large safety-net programs such as LIHEAP — the LoIncome Home Energy Assistance Program, which provides aid for heating and cooling bills — and the Senior Nutrition Program that provides meals to low-income elderly people.
Among the largest potential cuts are losses to education programs such as Head Start, which serves 3 to 5-year-olds from low-income families and Title I grants that aid high-poverty schools. Also facing a partial loss in funding are work-force training programs such as those offered through the Lucas County Workforce Development Agency at The Source.
"We are advocating that those [sequestration] cuts not be on the backs of the most vulnerable: children," said Yasmina Vinci, executive director of the National Head Start Association.
The idea was to make the cuts so large and politically unpopular that Congress and the President would be forced to work together and come up with a deal to avert the cuts before January.
So far, however, that hasn't happened.
Effect on schools
Toledo Public Schools could lose its share of a $43.6 million statewide cut to Title I grants, according to a report by U.S. Sen. Tom Harkin (D., Iowa). That potential cut, which is 7.4 percent of the program's $588.1 million budget for Ohio for fiscal year 2012, would mean 600 fewer education jobs, 58,246 fewer students receiving extra tutoring, and 168 fewer schools in Ohio receiving the grant funding, the Harkin report said.
Matt Cleland, treasurer of Toledo Public Schools, said the district has a carryover balance of federal money, so hits to programs would not be felt immediately.
"Our curriculum department doesn't run and spend every dollar they have allocated to them, so we would be able to make some adjustments and take advantage of those carryover dollars," Mr. Cleland said.
Eventually, the pain will be felt, but that is nothing new for schools, he said.
Title II, which provides TPS with teacher training and support funds, is also at stake.
"When do you think schools will start really hurting — five years ago, seven years ago? That is not a new concept," Mr. Cleland said. "With Title II, a component of that is class-size reduction and if we lose funding that helps us pay for teachers in place to reduce class size, then that will increase class sizes."
Special-education funding to states also could take a hit. Ohio's 2012 special-education funding of $436.9 million could be slashed by $34.7 million, meaning 420 jobs in the state no longer would be supported by federal funding. Michigan could lose $32 million of the $399.8 million it has allocated toward special education.
City impact
Toledo's finance director, Patrick McLean, said going over the cliff would be disastrous for the city and the nation.
"If we do not get a deal, we will have to reassess a lot of things," Mr. McLean said. "If we get a partial deal or some elements are addressed — there are so many potential elements, so it is very hard to plan and we are in this period of waiting and uncertainty that creates a less-than-optimal business environment."
The local unemployment rate could climb back above 10 percent, he said.
"What we will see in the short term is potential loss of jobs from those people who are funded by federal dollars," Mr. McLean said. "We will see a loss of government services and we would see higher federal taxes, which will turn into loss of spending power."
That ripple effect would expand and some economists think it would plunge the nation back into another recession.
"The economy can't take the shock of these taxes," said U.S. Rep Bob Latta (R., Bowling Green), citing the across-the-board income tax increases as well as a higher estate tax level that would go into effect in January.
Mr. Latta said time remains for the House, Senate, and the White House to reach a deal.
"We're going to keep working on this down until the midnight hour," he said.
Miss Kaptur also said she believes a deal will be reached.
"I'm very optimistic that we will be able to reach an agreement to protect our families and keep our economy growing," she said. Failure to avert the cliff, she said, "would be pushing the recovery back into recession."
Additionally, federal money the city collects eventually would decrease.
Lourdes Santiago, director of Toledo's Department of Neighborhoods, sees the cliff as more of a "slippery slope."
"Even without the fiscal slippery slope, at the end of the year we are preparing for a reduction anyway to [federal] Community Development Block Grant funding because it has been in decline for a number of years based on population loss," Ms. Santiago said.
"From the information we know, all [Housing and Urban Development] programs are subject to across-the- board cuts, except some that are protected," she said. "So definitely, we will be looking at cuts in federal CDBG and Emergency Solutions Grants."
Cuts for seniors
The Area Office on Aging, which provides many services to the elderly, anticipates an 8.2 percent budget cut — $3.7 million — should the cliff not be averted. That would mean thousands fewer home-delivered meals for seniors, fewer senior nutrition coupons for area farmers' markets, and fewer rides to medical appointments for seniors who can't drive, said Justin Moor, vice president of planning and program development for the agency.
Joanne Harris, 73, who lives in central Toledo, gets daily meals through the Area Office on Aging's program.
"With me being a diabetic, it is very, very good for me. ... It is always a meal with all the vegetables I'm supposed to have," Ms. Harris said.
"Sequestration would be devastating to our community," Mr. Moor said. "It would jeopardize older adults' ability to live independently at home."
Other safety-net advocates are fearful not of what will occur if a deal slips away, but of what programs might be cut if a compromise is worked out.
Medicaid, the health insurance program for low-income Americans, and the Supplemental Nutrition Assistance Program, more commonly known as food stamps, are widely seen as being the most vulnerable to a bargain among lawmakers, said Elizabeth Lower-Basch, a senior policy analyst at CLASP, a Washington think tank.
Contact Ignazio Messina at: imessina@theblade.com or 419-724-6171.
Guidelines: Please keep your comments smart and civil. Don't attack other readers personally, and keep your language decent. Comments that violate these standards, or our privacy statement or visitor's agreement, are subject to being removed and commenters are subject to being banned. To post comments, you must be a registered user on toledoblade.com. To find out more, please visit the FAQ.