EOPA orders leader's immediate firing
Anti-poverty agency's ousted CEO had been given until June 30 to leave
1/29/2013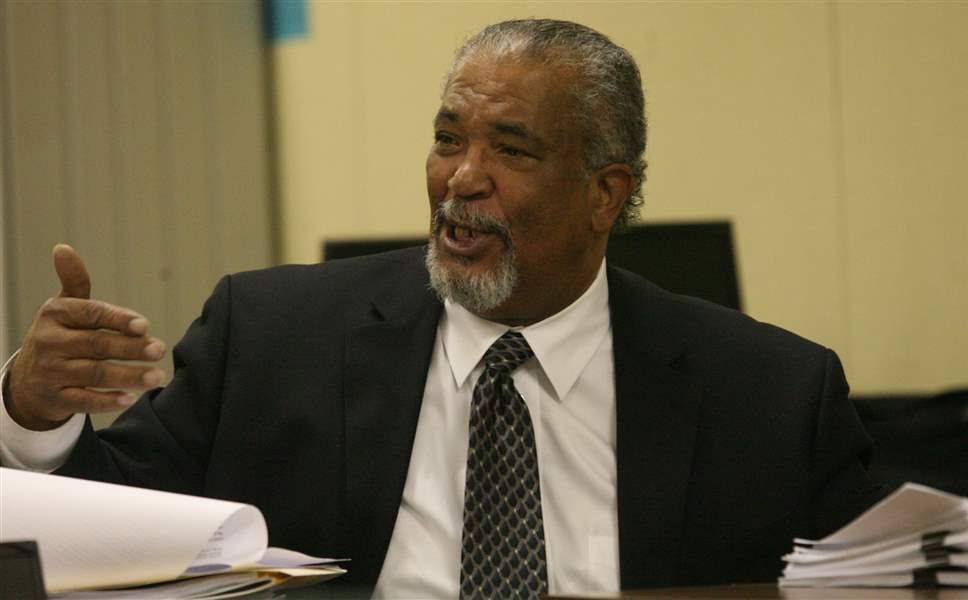 James Powell, speaks during an EPOA meeting at their headquarters in 2008.
The Blade
Buy This Image
James Powell, speaks during an EPOA meeting at their headquarters in 2008.
Saying persistent management problems and a lack of transparency have plagued the agency, board members at the Economic Opportunity Planning Association of Greater Toledo voted Monday night to terminate CEO James Powell, effective immediately.
The vote was 13 members in favor of firing Mr. Powell, five members voting against, and one member abstaining. The action came after nearly two hours of deliberation, portions of which were in a closed-door executive session. Several Lucas County sheriff's deputies were present at the meeting, which at times grew contentious among board members.
The board named Chief Financial Officer Robert Jordan the interim leader.
The Toledo anti-poverty agency runs a number of social-service programs, largest among them Head Start, which the organization is in danger of losing.
Much of Monday night's board discussion focused on several federal reviews of the Head Start program and whether issues such as under-enrollment, enrolling children whose family incomes exceeded program limits, incorrectly spending Head Start funds on a building without authorization, and properly screening young children for developmental delays have been corrected.
The U.S. Department of Health and Human Services is expected to announce in the next several months if EOPA will retain the program, or at least part of it, or if another entity such as the Toledo Public Schools or a for-profit operator will run Head Start in Lucas County.
Mr. Powell left immediately after the meeting and was unavailable for comment. He appealed directly to board members before the vote, saying the agency has acted to correct deficiencies noted by federal Head Start reviewers and the agency has a quality improvement plan.
"These are recurring problems," said Sylvester Gould, the board member who was the most vocal about wanting Mr. Powell to leave the organization. "I'm not putting all the burden on you, but you're the boss and the buck stops with you."
Mr. Gould and several board members also said they were upset to see $222,000 in Head Start funds that went unspent in a recent year.
"When was the board informed about those pots of money?" Mr. Gould asked.
Board member Ed Scrutchins demands answers during a monthly EOPA board meeting.
Added board member Vince Davis, "A quarter of a million dollars, in anybody's language, is not chicken feed."
Board members voted earlier this month to force Mr. Powell to step down no later than June 30.
He has been the agency's leader since 2009 and was deputy director from 2001 until 2008. Several board members brought the issue up again Monday night, however, saying Head Start reviews about the agency that the board had not previously seen were enough to warrant another vote on the matter.
Board member Mark McBee, who abstained during the vote, said he felt he did not have enough information to make a decision and was concerned about who would succeed Mr. Powell.
Several board members said they didn't see why Mr. Powell should have to leave sooner, after the board had already discussed and voted on the matter.
"Why is it such an emergency that we remove Mr. Powell?" said board member Ed Scrutchins. "What about the transitional period?"
Added board member Ellis Young, "It's beginning to sound more like a witch hunt."
New board member Paula Ross, who voted to terminate Mr. Powell, disagreed.
"I continue to feel that Mr. Powell was not sharing information and was not being completely open," she said after the meeting. "People who work for the agency deserve better leadership and need it now. I look forward to future board meetings that are more positive."
Mr. Jordan, EOPA's CFO elected last night as interim CEO, has worked at EOPA since 1975; he has been the CFO since 1977.
He said he will only serve in the role for an interim period.
"I'm anxious for them to get a permanent replacement," Mr. Jordan said.
Contact Kate Giammarise at: kgiammarise@theblade.com or 419-724-6091, or on Twitter @KateGiammarise.