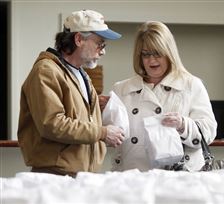 Kevin Kolanko, left, and his wife, Connie, of Toledo choose bags of flavored paczki, a traditional Polish pastry, during the 23rd annual Paczkowy Fest at the Old Library Building at 3101 Lagrange St.
The Blade/Amy E. Voigt
Enlarge | Buy This Image
Connie and Kevin Kolanko stopped in their tracks at the sight of tables covered with hundreds of bags of paczki just hours into a three-day sale at the Old Library Building in a neighborhood known for its Polish heritage.
"I love Polish food," said Ms. Kolanko, 46, of Toledo, an environmental services worker at Toledo Hospital. "Fat Tuesday is a day we can eat."
"And enjoy it and not feel guilty," added Mr. Kolanko, 51, a warehouse employee in Perrysburg.
The 23rd annual Paczkowy Fest fund-raiser for the Lagrange neighborhood — or Lagrinka, as the neighborhood's Polish residents called it — kicked off two days ahead of Fat Tuesday, around which time many people like to eat the heavy traditional Polish pastries before they knuckle down for Lent. Traditionally, the Polish made paczki as they used up eggs and butter before the start of the 40-day Lenten fast. For most Christians, Lent begins Wednesday.
The paczki were moving fast on Sunday before noon.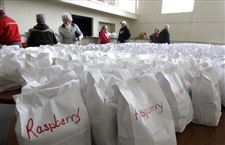 People look over different bags of flavored paczki. By 11 a.m. Sunday, about 250 dozen of the 1,500 dozen available treats made by Bakery Unlimited had sold.
The Blade/Amy E. Voigt
Enlarge | Buy This Image
There was a steady stream of shoppers about 11 a.m. at 3101 Lagrange St. Many took several bags, each with six or 12 paczki. Pronounced POONCH-key, they are not to be confused with jelly doughnuts. Paczki are made with a more dense dough and yeast.
In five minutes, the Kolankos finished their first trip around the tables, with Ms. Kolanko holding three bags of paczki, in varieties of chocolate, apricot, or custard.
"We are not done yet," Ms. Kolanko said with a smile. The seven paczki flavors yet untapped by the Kolankos were apple, blueberry, lemon, prune, raisin, raspberry, and plain. The paczki sell for $7 a half-a-dozen, or for $13 a dozen, including mixed orders.
Three hours into the sale, about 250 dozen were sold of the total of 1,500 dozen paczki made for the event by Bakery Unlimited, 4427 Secor Rd., said Annie Walker, 65, of Toledo, a ONE Village Council member. ONE (short for Old North End) Village Council succeeded the Lagrange Village Council when the Lagrange and NorthRiver development corporations merged in 2009. The area is bounded roughly by the Maumee River, Cherry Street, Manhattan Boulevard, and I-280.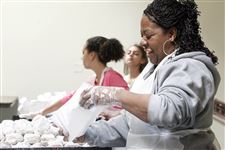 Miranda Walker, 12, left, Kaitlyn Towslee, and Sonja Cruse pack bags of paczki ahead of Fat Tuesday. A fund-raising sale is set to continue today and Tuesday until the Polish treats are gone.
The Blade/Amy E. Voigt
Enlarge | Buy This Image
Busy taking orders for mixed flavors, Ms. Walker was occasionally stepping away from her table to play darts with little children while their parents shopped.
"It's fun. A little bit of a sore back. But it's fun and it's worth it," Ms. Walker said laughing.
The retired LMHA youth supervisor went on to say that the event was expected to raise at least $7,000 — the amount raised last year — and would benefit residents of the area through the council's educational, job training, and financial assistance programs.
Sale hours are 8 a.m. to 6 p.m. today and 5 a.m. until sold out Tuesday.
Contact Mike Sigov at: sigov@theblade.com, 419-724-6089, or on Twitter @mikesigovblade.
Guidelines: Please keep your comments smart and civil. Don't attack other readers personally, and keep your language decent. Comments that violate these standards, or our privacy statement or visitor's agreement, are subject to being removed and commenters are subject to being banned. To post comments, you must be a registered user on toledoblade.com. To find out more, please visit the FAQ.