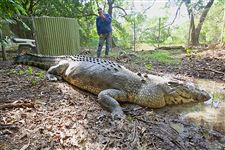 The 17-foot saltwater crocodile, simply called the 'Big Guy' in his native country, now resides in a mud hole at a crocodile sanctuary in Darwin, Australia. He's also called a nuisance after killing too many cows in the wild.
DARWIN CROCODILE FARM/ADAM BRITTON Enlarge
In his native Australia, he's known simply as "Big Guy."
But the 17-foot killer crocodile took down one too many cows in the wild, earning him the label of "nuisance." So he's catching a ride on a jet plane to his new home at the Toledo Zoo next month.
He will be the largest saltwater crocodile in North America and quite possibly in the Western Hemisphere, said Jeff Sailer, executive director of the Toledo Zoological Society.
The crocodile — which hasn't been named in the states yet — will go on exhibit May 24 when the Wild Walkabout opens to the public. The new Australian-themed exhibit includes wallabies, dingoes, cassowaries, and some of Australia's deadliest snakes.
The star of the exhibit is the crocodile, which weighs about 1,500 pounds and is estimated to be about 40 to 50 years old, which is a guess based on his weight and size, Mr. Sailer said.
"He does not show any signs of advanced age," he said. "Crocodiles can live well past 80, sometimes past 100."
The zoo has spent the last several months getting approvals from the U.S. and Australian governments to bring the giant reptile to Toledo.
"This is a remarkable opportunity," said Andy Odum, the zoo's assistant director of animal programs and curator of herpetology. "He will be a tremendous ambassador for wildlife, not to mention a great educational opportunity and something really spectacular for the public."
ABOUT THE ANIMAL
■ Who: Saltwater crocodile, Crocodylus porosus.
■ Age: Around 40-50 yrs old.
■ Longevity: 80-100 years.
■ Size: Largest of all living reptiles. The Toledo Zoo's new resident is 17 feet long.
■ Weight: Over 1,500 pounds.
■ Eats: Three chickens a week.
■ Natural habitat: Toledo's new resident is coming from Australia. They can also be found throughout Southeast Asia to the eastern coast of India and ranging as far west as the eastern coast of Africa.
■ Why Australia doesn't want him: He was a nuisance crocodile as he was killing cattle. He has been living in captivity in a sanctuary.
If all goes as planned, the crocodile will be flown from Darwin, Australia, to Dallas — about a 30-hour flight — on a yet-to-be determined day in the first week in April. The heavily sedated croc will fly cargo class on Qantas airlines in a specially made crate. In Dallas, his crate will be removed from the plane to go through customs, and then it will be loaded back on the plane for the final leg of the trip to Toledo.
The cost of bringing the crocodile to Toledo totals $90,000 and includes permits, hiring specially trained handlers who will serve as escorts, building a special crate, and flying him. The cost of renovating the solarium in the Reptile House totals $900,000 and is being paid for with money the zoo had budgeted for seasonal exhibits, some of which is tax levy money, earned revenue from the operating fund, and private contributions.
The largest single private gift is a $150,000 donation from Block Communications Inc., the parent company of The Blade, as well as an additional in-kind donation consisting of free advertising in The Blade and on Buckeye CableSystem channels.
Allan Block, chairman of Block Communications Inc., said the company is happy to help the zoo, which it has supported for a long time.
"This is a very important animal, one of the largest crocodiles in the world," Mr. Block said. "It is an incredible animal to have. It could have appeal that goes far and wide. There's no other animal like this in America."
The donation helped fund the updating of the 12,050-square-foot solarium in the Reptile House, which previously held several smaller exhibits, Mr. Odum said. Ultraviolet skylights, which will allow the transmission of the sun's beneficial rays to the animal, were replaced. There is also a basking beach, with a supplemental heater and underground heating, designed to keep the area in the low 90s, Mr. Odum said.
Alex DeBeukelaer, curator of graphic and exhibit design, views the new crocodile exhibit under construction.
The Blade/Dave Zapotosky
Enlarge | Buy This Image
The 18,000-gallon pool is filtered and heated to 82 degrees. The exhibit is planted with a large array of tropical plants, some of which are rare varieties.
The reason the crocodile was removed from the wild was because it was attacking cows, earning it the title of a nuisance animal, Mr. Sailer said. The animal was trapped by wildlife officials in the Daly River System a little more than a year ago and was then moved to the Darwin Crocodile Farm, a crocodile sanctuary in Australia, where he has resided in a mud hole in an enclosure without contact with other animals.
Despite his preference for large cattle in the wild, his diet in Toledo will be mostly chickens and only a small number per week.
"It is very important not to overfeed a crocodile," Mr. Sailer said. "They feed very infrequently on large items, and overfeeding can be a huge problem, causing obesity and heart disease."
The zoo currently has another, much smaller crocodile on display, a slender-snouted crocodile in Tembo Trail. Previously, two Cuban crocodiles were on exhibit in the solarium where the new crocodile is going to live. One was sent to Florida's St. Augustine Zoo in October, and the other is going to the Louisville Zoo shortly.
Contact Tanya Irwin at: tirwin@theblade.com, or 419-724-6066.
Guidelines: Please keep your comments smart and civil. Don't attack other readers personally, and keep your language decent. Comments that violate these standards, or our privacy statement or visitor's agreement, are subject to being removed and commenters are subject to being banned. To post comments, you must be a registered user on toledoblade.com. To find out more, please visit the FAQ.