Home
→
News
→
Local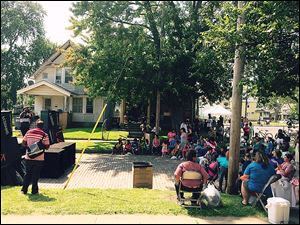 South Toledo church hosts block party, draws over 1,000
Rappers, churches, and children don't always mix, but at the Vision Ministries summer block party in South Toledo, they did. Kevin Murphy was one of the many children who danced or performed throughout the day at the Vision Block Party, which drew more than 1,000 people from noon to 4 p.m. Saturday to Langdon Street between South Avenue and Colburn Street.
---
---
Loading Videos....
Keith Burris
Confident dark horse
John Kasich is an interesting dude. But can he win?
Mary Bilyeu
Each farmers' market has its own vibe
The identity, the culture, and the vibe are all about community.
David Shribman
Family values boost same-sex marriage ac...
Movement of same-sex marriage to accepted law a swift progression.