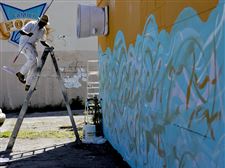 Artist Yusuf Lateef of Toledo works on a mural as part of the United Way's Days of Caring at Dorr Street and Junction Avenue.
THE BLADE/JEFFREY SMITH
Enlarge | Buy This Image
Kate VanJura of Bowling Green strained to reach as high as she could with a brush without losing her balance and painted an orange mark under the roof of the former Munchie's Again restaurant at Dorr Street and Junction Avenue in central Toledo.
"It makes me feel like I'm helping beautify my neighborhood," Ms. VanJura, 26, said.
Ms. VanJura of Perrysburg was one of about 20 United Way of Greater Toledo volunteers who painted the single-story building Thursday to make it look like a boat. Other volunteers were to start painting a jazz mural Thursday evening, according to Rachel Richardson of Toledo, a freelance public art coordinator contracted by the agency.
PHOTO GALLERY: United Way's Days of Caring
The effort came the same day the agency, serving Lucas, Wood, and Ottawa counties, announced a goal of $15.1 million as it kicked off its 95th campaign.
The kickoff celebration in Maumee was the first of three campaign kickoffs taking place in the three counties Thursday and today. The celebration featured a guest speaker, Debbie Silver, an award-winning teacher and best-selling author, who told the audience of about 250 community and business representatives and volunteers about the importance of challenging school children to learn.
This year's goal is higher than the more than $13.8 million the agency raised last year, a necessary increase to "achieve and grow the services that United Way offers," said Chip Carstensen, president of Block Communications Inc. and chairman of this year's campaign. The services aim to improve income, health, and education. Block Communications is the parent company of The Blade.
"It's a big job that requires big hearts, and Toledoans have big hearts," he said.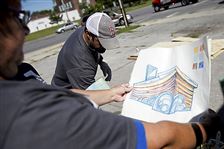 Sylvania resident Joan Mitchell, a volunteer from MassMutual, holds up the artist's depiction of the mural. When it is done, the mural will make the building look like a boat floating on water.
THE BLADE/JEFFREY SMITH
Enlarge | Buy This Image
To help drive giving, 12 local companies or groups are offering Matching Challenge grants — totaling $365,000 in sponsorships — that can help multiply a gift to the campaign. Those grants are: the Leadership Matching Challenge Grant presented by ProMedica and United Way of Greater Toledo Board of Trustees; the Education Matching Challenge Grant presented by Owens-Illinois and business sponsor BP-Huskey LLC; the Health Matching Challenge Grant presented by HCR ManorCare and the Fostering Healthy Communities partnership composed of Mercy, the University of Toledo Medical Center (the former Medical College of Ohio), and ProMedica, and the Income Matching Challenge Grant supported by business sponsors Block Communications Inc., Fifth Third Bank, and Hylant Group.
Marie Iozzo, 47, of Berkey, Ohio, a United Way volunteer who was present at the kickoff celebration, said she has seen an increase in the need for the agency's services over the past five years that she has volunteered for it.
"Those who have never contacted us are now contacting the United Way for help with putting food on their tables and clothes on their backs," she said.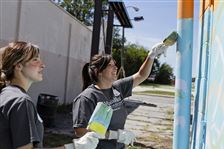 Abby Lewis of Perrysburg, right, paints with Danielle Scott of Maumee as they volunteer with others from MassMutual at the Munchie's Again building.
THE BLADE/JEFFREY SMITH
Enlarge | Buy This Image
Also present was Toledo Mayor Mike Bell, who said the agency "helps the quality of life in the city" and that "the only way it can move forward is through the donations of those who can afford to give."
Right after the kickoff breakfast at Parkway Plaza in Maumee, the largest Days of Caring in the organization's history started. More than 2,500 community volunteers — from companies, groups, and families — will spend time today though Sunday in one central Toledo neighborhood.
The volunteers will work on more than 400 projects, including painting houses and murals, and working on landscaping, building, and neighborhood cleanup. The focus area is approximately a 10-block by 4-block area of the Junction Avenue corridor that includes the Munchie's Again building.
Contact Mike Sigov at: sigov@theblade.com, 419-724-6089, or on Twitter @mikesigovblade.
Guidelines: Please keep your comments smart and civil. Don't attack other readers personally, and keep your language decent. Comments that violate these standards, or our privacy statement or visitor's agreement, are subject to being removed and commenters are subject to being banned. To post comments, you must be a registered user on toledoblade.com. To find out more, please visit the FAQ.