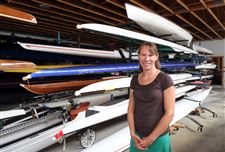 Kristina Latta-Landefeld is the Toledo Rowing Club's new executive director. Before accepting the post with TRC, Ms. Latta-Landefeld was director of the Steel City Rowing Club near Pittsburgh.
THE BLADE/JEREMY WADSWORTH
Enlarge | Buy This Image
As crew makes a big splash — different, of course, from backsplash when less is best — the Toledo Rowing Club has hired an executive director.
For the first time in its 30-plus-year history, the Toledo Rowing Club board of trustees has voted to transition from a historically volunteer-driven organization to one with professional, day-to-day management. In August, TRC hired Kristina Latta-Landefeld away from Steel City Rowing Club near Pittsburgh where she had been the director of rowing for a year and a half.
Patrick Sheehan, TRC president, said additional schools haven't joined TRC, but "more kids in total" are rowing, plus TRC is experiencing an increase in interest in its Masters' program. And, he said, "we are also trying to develop a youth summer program."
Ms. Latta-Landefeld, 29, is a 2002 graduate of St. Ursula Academy where she rowed varsity crew. She later rowed and coached at Smith College in Northampton, Mass., where she received a degree in government and her master's in exercise and sports studies. According to TRC, Ms. Latta-Landefeld has built an impressive rowing career not only continuing to compete herself, but also coaching, working for the boat manufacturer Klinger Engineering in Massachusetts; honing her development skills as a grants associate for the Greyston Foundation in Yonkers, N.Y., and, most recently, directing the Steel City Rowing Club.
Ms. Latta-Landefeld, who said it's great to be back in her former rowing area, has a lengthy to-do list already, including starting an adaptive program that would provide opportunities for people with disabilities to take part in rowing. She is reaching out to local organizations, she said, and plans to consider grant funding, noting TRC already has plenty of equipment for adaptive rowers.
Also, she would like to expand the number of rowers in the Toledo Metropolitan Rowing Club, such as to include more students from Toledo Public Schools.
Ms. Latta-Landefeld notes an increase in interest in crew for a number of reasons, including that success breeds success. "Whenever teams do well, it gains attention in schools and more people want to participate."
Some highly competitive teams have had success in prestigious regattas such as the Head of the Charles in Cambridge, Mass., known as the world's largest two-day rowing event with more than 9,000 athletes from around the world competing in 55 different race events. The regatta attracts up to 300,000 spectators during race weekend in October.
Qualifiers for the 2013 Head of the Charles include St. Ursula Academy (women's 8), Anthony Wayne (women's 8), and St. John's (men's 8).
Another pull to do crew: dollar signs. There's an increase in visibility in part because of the attractive scholarships offered to rowers, and that is a big motivator, she said.
Too, the United States' crew has done well in the Olympics, and that draws attention to the sport as well. "Is there room for more growth? Definitely," she said, noting the need for more coaches, and she encourages crew alum to get back into the sport, and back into a boat. "I think the kids could use more coaches."
The fall crew season already is in full swing with boats on the water for practice sessions on the Maumee River in recent weeks, prepping for the competitions, including the Head of the Cuyahoga in Cleveland this past weekend.
This Saturday, it will be Toledo's turn in the rowing spotlight as TRC hosts the annual Frogtown Races Regatta on the Maumee River. The Toledo Rowing Club boathouse is in International Park along the river, across from downtown Toledo. Several hundred rowers will come to the city from across the Midwest for the regatta, said Mr. Sheehan.
The Toledo Rowing Club encourages the public to hop on over to the regatta, described by TRC as one of the largest and most prestigious fall regattas in the Midwest with high school, college, and masters rowers (adults) from the United States and Canada taking part.
It is great fun. You can cheer on the teams as rowers compete along a three-mile course on the Maumee, finishing in front of The Docks restaurants. You can people watch. You can soak up the atmosphere that is crew and crew alone.
TRC is both a recreational and competitive rowing club serving Toledo and surrounding area; it has more than 300 members with experience ranging from beginner to advanced. The nonprofit, community-based membership organization is dedicated to the promotion and advancement of the sport of rowing by providing the widest possible range of opportunities for training and participation, according to its Web site.
In addition to seven high school teams (St. John's Jesuit High School, Notre Dame Academy, St. Ursula Academy, Anthony Wayne High School, Central Catholic High School, the Toledo Metropolitan Rowing Club, and St. Francis de Sales High School), the Toledo Rowing Club includes the University of Toledo and Masters teams in competition as well.
A National Learn to Row Day, sponsored by USRowing and Concept2, is held annually in rowing clubs and health clubs throughout the United States. TRC takes part, and Ms. Latta-Landefeld said plans call for local learn-to-row opportunities to expand next summer.
Contact Janet Romaker at: jromaker@theblade.com or 419-724-6006.
Guidelines: Please keep your comments smart and civil. Don't attack other readers personally, and keep your language decent. Comments that violate these standards, or our privacy statement or visitor's agreement, are subject to being removed and commenters are subject to being banned. To post comments, you must be a registered user on toledoblade.com. To find out more, please visit the FAQ.