Myra Waters
Toledo's African American Legacy Project will honor six people, plus two posthumously, and eight up-and-coming residents during its ninth annual celebration this weekend.
Samuel L. Price
The Legacy Project will host a reception today at 5:30 p.m. at the Toledo Club, and a luncheon is Saturday at 1 p.m. at the Perrysburg Hilton Garden Inn. Toledo native and jazz trumpeter Joey Sommerville will perform two shows as part of the weekend activities Saturday, at 7:15 and 9:15 p.m., at Forrester's on the River.
The BLADE
Enlarge | Buy This Image
Project director Robert Smith said those selected this year are an incredible group. He described the emerging leaders as upwardly mobile figures worthy of watching now and in the future.
Lola Glover
THe BLADE
Enlarge | Buy This Image
"There is wisdom in the years, and we can't let all that knowledge get away," he said, speaking of the two sets of people who will be heralded this year. He added that when that "energy and wisdom are combined, good things happen."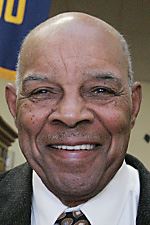 Crystal Ellis
THE BLADE
Enlarge | Buy This Image
After potential celebrants are nominated, the legacy project staff narrows the choices during vigorous debate, Mr. Smith said.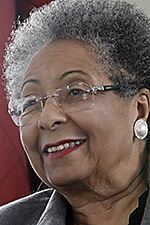 Wilma Brown
THE BLADE/AMY E. VOIGT
Enlarge | Buy This Image
"We always wanted the project to impact the African-American and total community. I'm learning every day how far our reach is for the size of our organization," he said. "I'm very pleased that people are embracing us and find the history of African-Americans as important as any other history. More and more people from the wider community are embracing us and telling us that these are important stories to the community."
Robert Powell, Sr.
This year's honorees, representing the fields of education, business, civic affairs, and advocacy, are:
Daniel Mack
● Libbey High School graduate Myra Waters, director of the counseling center and an adjunct faculty member at the University of Baltimore.
● Scott High School graduate Samuel L. Price, a former football player who as a businessman has owned a fast-food franchise, restaurants, and a dental office.
● Joseph Sommerville, Sr., who continues his service at the University of Toledo, where he is a professor emeritus.
● Lola Glover, whose easily recognizable name and face are associated with her founding of the Coalition for Quality Education and her work on behalf of marginalized residents.
● Springfield High School graduate Crystal Ellis, known for several firsts, including the first African-American to become superintendent of Toledo Public Schools.
● Wilma Brown, also a Scott graduate, who marked another first in city government as the first African-American to become president of Toledo City Council.
● Daniel Mack, who owned and operated the Candlelight Cafe — also known as the Shrimp House — and Robert Powell of Powell's Beauty and Barber Supplies, will be honored posthumously.
This year's emerging leaders are:
● Kenyetta Jones, who introduced President Obama during a 2012 campaign trip here and addressed the Democratic National Convention.
● Alicia Smith, who has served as educational coordinator at the Padua Center.
● Hope Bland, a field instructor at UT and Wayne State University school of social work.
● Merida Allen, associate director of the Office of EXCELlence and Multicultural Student Success Programs and part-time instructor at the University of Toledo.
● Joshua Peterson, an associate at Eastman & Smith Attorneys at Law.
● William Pierce, interim director of undergraduate admission at UT.
● Rodney Eason, Jr., director of human resources business partner at The Andersons.
● Keith Jordan, president, Toledo Board of Community Relations.
Contact Rose Russell at: rrussell@theblade.com or 419-724-6178.
Guidelines: Please keep your comments smart and civil. Don't attack other readers personally, and keep your language decent. Comments that violate these standards, or our privacy statement or visitor's agreement, are subject to being removed and commenters are subject to being banned. To post comments, you must be a registered user on toledoblade.com. To find out more, please visit the FAQ.