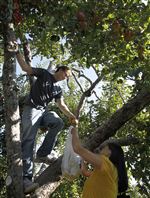 The Blade/Lori King
Enlarge | Buy This Image
Perrysburg resident Sean Kelley hands a picked apple to his girlfriend Cindy Zhang, of Holland, at MacQueen Apple Orchard in Holland, Ohio. Apple picking usually continues until the third week of October.
Guidelines: Please keep your comments smart and civil. Don't attack other readers personally, and keep your language decent. Comments that violate these standards, or our privacy statement or visitor's agreement, are subject to being removed and commenters are subject to being banned. To post comments, you must be a registered user on toledoblade.com. To find out more, please visit the FAQ.