Home
→
News
→
Local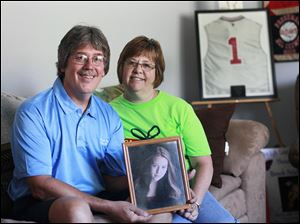 Parents of organ donor honor daughter at Transplant Games
"I said no. We've seen enough. I said no, I'm done. I was pretty vocal." David Peterson, 51, at first refused the doctors who asked if he would donate the organs of his 17-year-old daughter, Brook, for transplant after her fatal car accident on August 22, 2008. Fortunately, his wife, Jean, 50, knew what Brook would want.
---
---
Loading Videos....
Keith Burris
UT focus must be on the future
UT is the most important institution for the future of the city.
Jack Lessenberry
Michigan Senate race has hint of finalit...
Things are never over until they'‍re over — especially in Michigan.
Kirk Baird
Column about the show about nothing
Seinfeld turned 25 on Saturday...and we all feel a little older.
Follow on Twitter