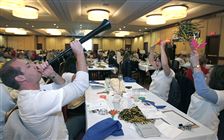 William Adamiak blows the vuvuzela as his NAMSA teammates, including Jennifer Shafer, second from right, and Kelly Jobe, cheer during The Blade Corporate and Community Spelling Bee.
THE BLADE/JETTA FRASER
Enlarge | Buy This Image
Root Inc.'s spelling skills proved "salubrious" in helping its team win The Blade's 26th Annual Corporate and Community Spelling Bee at a downtown Toledo hotel.
When used as an adjective, the word salubrious is a fancy term for the word "favorable to," according to the Internet version of the Merriam-Webster Dictionary, which bee judges used to determine the spelled words' accuracy.
Thursday's event in the downtown Grand Plaza, which drew about 55 corporate and community teams, raised $70,000 in cash and $25,000 of in-kind donations that will benefit Read for Literacy's adult and child literacy programs, officials said. The 2012 event raised $54,780.
It was the fourth spelling-bee win for Root Inc., a Sylvania corporate consultant formerly known as Root Learning. The firm has sent a team for many years because literacy is an important issue and the company believes "it's part of our giving back to our community," said Michelle Prand, director of Root Information Systems.
The group, which racked up 23 points total, also included company editors Alma MacDougall, Kristen Fritz, and Laura Drouillard. The women said they never prepare for the contest because there's no way to know what words might be asked.
"There's no reason to practice," said Ms. MacDougall as she held up the winner's trophy. "Absolutely not, it's just good luck."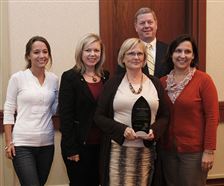 The winning Root Inc. team is made up of Laura Drouillard, left, Michelle Prand, Alma MacDougall, and Kristen Fritz. Behind them is Steve Dolley, chairman of Read for Literacy, which is the beneficiary of the spelling bee.
THE BLADE/JETTA FRASER
Enlarge | Buy This Image
A fierce battle for second place required three tie-breaking rounds before J.M. Smucker nosed out Trinity Episcopal Church. The last tie-breaking question required spelling the last names of five male celebrity movie stars, including Arnold Schwarzenegger.
Each competing organization was represented by four people. After a word or question was asked out loud, each group had a minute to spell the word or answer the question on a white board at their table. Answers were worth a point or two, depending on difficulty.
The Sisters of St. Francis of Sylvania, who entered the bee for the first time, were overwhelming fan favorites to win and received the afternoon's loudest applause. Sisters Roselynn Humbert, Joan Jursla, Carolyn Giera, and Judy Ann Beaudy arrived wearing hats adorned with long springy sunflowers and waved bumble-bee-colored pompoms every time they spelled a word correctly.
The bee's presenting sponsors were Owens-Illinois and Buckeye CableSystem.
Read for Literacy provides activities and events in support of increasing the level of literacy to help children, adults, and families develop the skills vital to academic, career, and personal success. The annual spelling bee is the organization's largest fund-raising event.
Contact Federico Martinez at: fmartinez@theblade.com or 419-724-6154.
Guidelines: Please keep your comments smart and civil. Don't attack other readers personally, and keep your language decent. Comments that violate these standards, or our privacy statement or visitor's agreement, are subject to being removed and commenters are subject to being banned. To post comments, you must be a registered user on toledoblade.com. To find out more, please visit the FAQ.