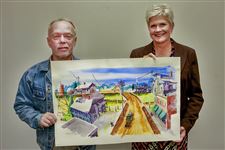 Whitehouse watercolor artist Harry Daugherty shows off his painting depicting scenes of Whitehouse in the early 1900s with the help of Barbara Knisely. Ms. Knisely is the Whitehouse community development coordinator. The community will observe its sesquicentennial in 2014.
THE BLADE/JEFFREY SMITH
Enlarge | Buy This Image
Whitehouse turns 150 next year, and plans are under way for the event.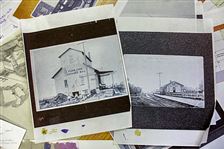 For inspiration, Whitehouse watercolor artist Harry Daugherty used historic photographs of the community from the early 1900s. The focal point of his work is Providence Street.
THE BLADE/JEFFREY SMITH
Enlarge | Buy This Image
Harry Daugherty, a watercolor artist and village resident, spent hours studying old photographs of Providence Street circa 1900 and used what he absorbed to paint a view of the downtown in that era.
He calls his artwork a "reminiscent sketch," intended to convey a sense of the Whitehouse scene from that time. "It's more a notion of things. It's semirepresentational," Mr. Daugherty, a retired structural engineer, explained.
His painting shows a train arriving at the depot, the Whitehouse grain elevator, Central Hotel, and Pythian Castle. The north view up Providence also depicts a water tower, windmill, horse and buggy, telephone poles and lines, and some of the early citizens, including children, walking and playing downtown.
The village is to celebrate the sesquicentennial in 2014, with Founders Day, July 5, the focus of events. Mayor Angela Kuhn has appointed a committee to begin the planning.
Barbara Knisely, the village's community development coordinator, hopes to have the painting turned into a mural that will be displayed at a public location in Whitehouse. She plans to ask village council to authorize the $2,000 to $3,000 expenditure at its Nov. 12 meeting, at which time she'll also announce the recommended location.
The mural would be a 15-foot-by-30-foot digital transfer affixed to a wall-like a decal, she explained.
"If we get permission, it would be done in the spring. It's a lot less costly this way than paying a muralist, who would charge $8,000 to $12,000. I think the fact that it comes from a watercolor will make the mural different. It will be the first watercolor mural anyone has seen," she said, adding that the watercolor also will be on the official village 2014 calendar, distributed free to residents, that will be available in mid-November.
Ms. Kuhn said she supports the idea of a mural. "We've been working really hard to revitalize our downtown, and it would be a really neat addition."
Ms. Knisely said she came across the old slide photos of Whitehouse while rummaging through storage boxes. She had them transferred to a DVD, then drew a rough sketch of what she had in mind for the mural, and presented both to Mr. Daugherty, who donated his artistic services.
Mr. Daugherty, 70, has lived in Whitehouse since 1973. He said he has painted for 20 years and was inspired to do so by trips to Ireland. He does his watercolors from photos and real scenes. His works will be on display at the Whitehouse Arts Advisory Board's annual Holiday Fund-raiser Art Show and Sale Dec. 7 at Hope United Methodist Church in the village.
Guidelines: Please keep your comments smart and civil. Don't attack other readers personally, and keep your language decent. Comments that violate these standards, or our privacy statement or visitor's agreement, are subject to being removed and commenters are subject to being banned. To post comments, you must be a registered user on toledoblade.com. To find out more, please visit the FAQ.