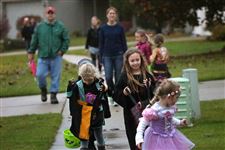 Katelyn Feltz, 6, left, peeks in her bag as she and Chloe Erickson, center, join trick-or-treaters in Bed-ford Township. Unlike several area communities, Bedford did not cancel trick-or-treat Thursday.
THE BLADE/KATIE RAUSCH
Enlarge | Buy This Image
LAMBERTVILLE — Fear of high winds and rained-soaked children pushed many local officials into changing tricking-or-treating from Thursday evening to alternative dates this weekend. But in Bedford Township, little witches, ghosts, and goblins braved the weather and Halloween went on as scheduled.
The streets in the Captiva subdivision bustled with the sounds of children laughing as they ran from door to door collecting candy in pillowcases. They had to endure a light, steady drizzle, but no downpours. Occasionally a heavy wind gust broke through the laughter and caused people to turn their backs to the wind, but all in all, it was manageable.
By 6 p.m. Thursday, Sue Stevenson sat in her attached garage on Sandpiper Drive surrounded by Halloween décor, ready for trick-or-treaters. "Kids around here, they come rain or shine," she said. Her good friend Melody Clare and her two kids, 5-year-old Harmony and 3-year-old David, were the first to stop by.
PHOTO GALLERY: Tricks and treats in Bedford on Halloween
TRICK-OR-TREAT TIMES: Click here for the most up-to-date list of area festivities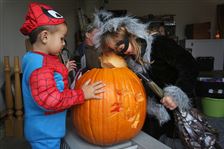 David Clare, 3, left, and his sister, Harmony, 5, peer inside a pumpkin as they wait for the rain to stop and for trick-or-treat to start in Lambertville.
THE BLADE/KATIE RAUSCH
Enlarge | Buy This Image
RELATED ARTICLE: "Halloween back in my day."
Ms. Clare was undaunted by the rain. "There is no way of changing Halloween," so switching it is not the same, she said. "Whether or not it is raining or thundering or pouring, I'm still taking my kids out and they are going to have fun," she said.
Vanessa Stevenson, 13, was also unfazed by weather. "It's just rain. It's not gonna kill you," she said.
Tricking-or-treating was postponed in Toledo and several surrounding communities Thursday after Toledo Mayor Mike Bell had a meeting with several area mayors, officials, and police chiefs, said Jen Sorgenfrei, a city spokesman.
The forecast for rainy, windy weather was a concern for the group, she said, although by early evening in Toledo, too, the rain had let up after being intermittently heavy throughout the day.
As of 5 p.m. Thursday, 0.85 inch had fallen since midnight at Toledo Express Airport. A wind advisory was in effect for much of the Toledo area until 6 a.m. today for southerly and southwesterly winds of 20 to 30 mph, gusting to 50 mph, overnight with peak strength around midnight.
Contact Marlene Harris-Taylor at: mtaylor@theblade.com or 419-724-6190.
Guidelines: Please keep your comments smart and civil. Don't attack other readers personally, and keep your language decent. Comments that violate these standards, or our privacy statement or visitor's agreement, are subject to being removed and commenters are subject to being banned. To post comments, you must be a registered user on toledoblade.com. To find out more, please visit the FAQ.