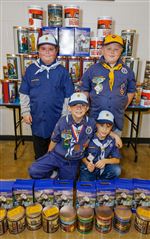 Ryan Marks, 9, front left, and Jack Callan, 8, right, pose with Gavin Leahy, 8, back left, and Daniel Lilly, Jr., 7, with almost $2,000 in popcorn that will be going to Ohio military troops far from home.
THE BLADE/ANDY MORRISON
Enlarge | Buy This Image
WAUSEON — With polish, precision, and a whole pack of politeness, a group of Cub Scouts from Fulton County collected change from area residents and converted the money into treats for the troops.
Namely, popcorn. Lots and lots of popcorn. Some salty. Some sweet. All in gift tins, ready to ship to military personnel.
"We collected change to send popcorn to the military people serving overseas so they can have popcorn so they can share with their family," said Daniel Lilly, Jr., 7, who was among the scouts in Pack 177 who raised the funds that totaled $1,877, enough to purchase 30 boxes filled with popcorn tins for the troops through a program called Buckeye Military Families.
Scout Ryan Marks, 9, who attends Wauseon Elementary School, raised $1,001. "I tried to do my best. I never gave up," the youngster said, pointing out he sold popcorn door-to-door and through other popcorn-sales activities.
Although sales were working out, there wasn't as much participation in a program to provide popcorn for the troops, said his mother, Elise Marks of Wauseon, who leads the scouts and who recently delivered the popcorn to her contact with Buckeye Military Families.
To pump up sales for the troops, Ryan popped up a plan: Why not ask people if they had change to give toward the purchase of the puffed snack. And the scouts found the plan worked better than anticipated.
Ryan said the popcorn for the military personnel is "something to remind them of home. It's a taste of home, and it is really a nice thing to do."
Others involved included Scout Jack Callan, 8, of Wauseon, who said it is important to aid the troops. "The troops protect us. Troops help keep us free, and they allow us to have our own government."
Stephen Guinn, who lives near Swanton and serves as unit commissioner, described the change-for-popcorn plan as "awesome." When he was in the National Guard, he recalled, anytime you received something from home, it was a good thing, even if it was a bag of cough drops or a can of shaving cream. Grandma-made cookies? Particularly splendid. "You were instantly popular when you would get anything from home," he said.
Popcorn sent to the troops included the mud puddles variety, or as Mrs. Marks called it "Mommy's-having-a-bad-day popcorn." Think caramel corn and crushed peanuts coated in rich creamy fudge.
Other Pack 177 scouts who took part in the popcorn project were Gavin Leahy, Noah Freshour, Brode Strezinski, and Oskar Strezinski.
Mrs. Marks already has sent a separate shipment of popcorn to a friend of hers from school, Mark Gabenski, who is with the Air Force overseas. "We went to Navarre School together. We were friends in high school," she said, and when she found he was serving overseas, she decided to send popcorn as a "Howdy there from home" package.
Raising $1,877 is pretty impressive for a pack of eight scouts. "We relied on word of mouth," Mrs. Marks said.
This just wasn't about scouts trying to outsell each other. It was about teamwork, Mrs. Marks said, and about scouts helping each other reach their goals. "It wasn't 'Look, I sold more,' but was 'Hey, let me help you out,' " she said.
The scouts weren't pushy popcorn sellers, but when someone said, no thanks, I can't eat popcorn, the boys would say, "Well, would you be interested in donating loose change to help us buy popcorn for the troops?" And that approach worked nearly every time.
Guidelines: Please keep your comments smart and civil. Don't attack other readers personally, and keep your language decent. Comments that violate these standards, or our privacy statement or visitor's agreement, are subject to being removed and commenters are subject to being banned. To post comments, you must be a registered user on toledoblade.com. To find out more, please visit the FAQ.