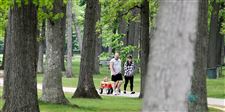 The Blade/Andy Morrison
Enlarge | Buy This Image
Olander Park System seeks volunteers to patrol park trails.
About a dozen volunteers would patrol the 5-plus miles of trails in Olander Park, Fossil Park, and Sylvan Prairie Park, Park Assistant Manager Robin Parker said.
Volunteers would patrol during daylight and be informational guides. Among other duties, they would answer basic questions about the parks. To learn more, contact Ms. Parker at 567-218-6239 or rparker@olanderpark.com.
Guidelines: Please keep your comments smart and civil. Don't attack other readers personally, and keep your language decent. Comments that violate these standards, or our privacy statement or visitor's agreement, are subject to being removed and commenters are subject to being banned. To post comments, you must be a registered user on toledoblade.com. To find out more, please visit the FAQ.