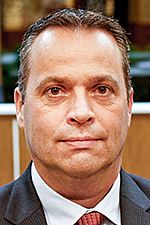 Wagner
THE BLADE/JEFFREY SMITH
Enlarge | Buy This Image
Rossford has a new city council member.
He's Dan Wagner, whom Mayor Neil MacKinnon swore in last week to finish the unexpired term of Mike Scott. Mr. Scott left council in late August to take a seat on the board of the Northwestern Water and Sewer District.
Mr. Wagner will serve out the rest of Mr. Scott's term, which expires Nov. 30, then begin a four-year term he won in the Nov. 5 election.
At a council meeting last week, other members and the mayor welcomed him aboard. They also welcomed back Caroline Eckel and Jerry Staczik, who were re-elected.
Mr. Wagner and his wife, Amy, have lived in Rossford since 1993. Mrs. Wagner is a teacher in the Rossford schools.
They have four sons who attend or have attended the school system. Mr. Wagner is a Toledo police officer and president of the patrolman's union. As a councilman, he said, his special interests will include public safety and nuisance housing, which he describes as a contributor to crime.
In other business, council approved 3-percent pay raises for nonunion employees retroactive to July 8. With the raises in place, the city administrator is paid $71,552, the superintendent of public works $58,448, the finance director $61,880, the fire and police chiefs $63,960 each, the assistant fire chief $18.50 per hour, the parks and recreation director $49,504, the parks and recreation assistant director $36,712 (effective Jan. 5), and the council clerk $4,800.
Council also approved spending $75,000 in tax-increment finance district funds for infrastructure improvements in the Crossroads district, specifically at the planned Camping World outlet adjacent to the Bass Pro store on the south. The money will have no effect on the city's general fund, and is in connection with the developer's infrastructure expenditures on storm and sanitary sewers and waterlines.
The city's contribution is part of an agreement with the developer, Siren Rossford, to defray the improvements' cost.
Council also was given a first look at a proposed operating budget for 2014. It calls for general fund spending of $6,105,889 and includes a new full-time police officer and public works employee and a new bucket truck.
Council also approved petitioning Wood County Common Pleas Court for forfeiture of three tax-foreclosed land parcels on Osborn Street to the city.
If Rossford did not take possession, the land would transfer to the state. City Administrator Ed Ciecka said under state ownership, the land would likely be neglected, so if maintenance were left up to the city, it might as well be the owner.
Council also gave first reading to an ordinance that would require unsolicited written materials delivered to homes and businesses to be placed in a box, door, or slot rather than be thrown into yards or driveways, where it becomes litter. Law Director Kevin Heban emphasized the ordinance would regulate only the materials' placement, not their contents, and is based on a Kentucky law that has been upheld in court.
Guidelines: Please keep your comments smart and civil. Don't attack other readers personally, and keep your language decent. Comments that violate these standards, or our privacy statement or visitor's agreement, are subject to being removed and commenters are subject to being banned. To post comments, you must be a registered user on toledoblade.com. To find out more, please visit the FAQ.