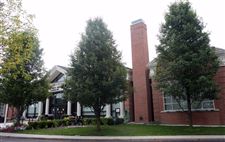 The Blade/Amy E. Voigt
Enlarge | Buy This Image
Way Public Library will host a panel discussion Tuesday at 7 p.m. about Ohio tax changes and their impact on Perrysburg, the local school district, and Wood County.
The panel will comprise Superintendent of Schools Tom Hosler, Perrysburg City Tax Commissioner Steven Bronder, and Wood County Auditor Michael Sibbersen.
The event is free and open to the public.
Guidelines: Please keep your comments smart and civil. Don't attack other readers personally, and keep your language decent. Comments that violate these standards, or our privacy statement or visitor's agreement, are subject to being removed and commenters are subject to being banned. To post comments, you must be a registered user on toledoblade.com. To find out more, please visit the FAQ.