Ohio State-Michigan 'games' are many
Elementary students compete by collecting food for shelters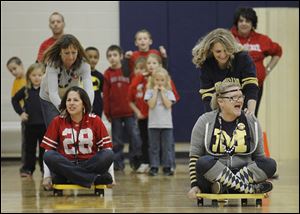 DeVeaux Elementary teachers Erin Benner, pushed by Kara Keegan, left, races Nancy Bowman, pushed by Karen Ellis, in an event linked to a food drive for Crossroads Family Resource Center.
THE BLADE/LORI KING
Enlarge | Buy This Photo
Sometimes, feeding into the area's biggest local college sports rivalry helps feed families in need.
Students at DeVeaux Elementary were decked out in Ohio State University and University of Michigan gear Wednesday, cheering for their preferred teams in the school's gym while they competed in musical chairs and other games. Behind the revelry and rivalry, though, was a spirit of giving during the holiday season.
DeVeaux was among many Toledo Public Schools elementaries that held an Ohio State vs. Michigan rivalry week canned food drive. From Nov. 18 until Tuesday, students split between the two teams, competing by collecting more than the other side. In the end, it wasn't much of a competition: OSU beat UM by 1,929 cans to 872.
"If we have money to buy ourselves food, we have money to buy them food sometimes," Koji Morrison, 13, said.
That the Buckeyes are more popular at the school than the Wolverines helped. That DeVeaux is led by a strong Ohio State partisan didn't hurt.
"This is Buckeye country," Principal Chad Henderly said.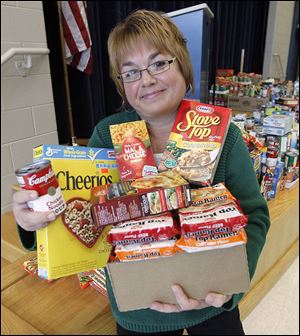 Reka Monus, coordinator for Crossroads Family Resource Center, holds a few of the canned and boxed foods collected for her organization by DeVeaux Elementary School students.
THE BLADE/LORI KING
Enlarge | Buy This Photo
Students on both sides worked hard to meet the school's goal of 2,500 cans collected. They missed their target on Friday, but Mr. Henderly — both coach and referee in the contest — added an overtime session.
By the end, students had collected 2,801 cans for the Crossroads Family Resource Center's food bank on Douglas Road. The school's sponsor church, Aldersgate United Methodist Church, partnered in the food drive.
Everybody pitched in. Parents didn't just supply the canned food, they also tracked progress on Facebook and helped to organize events. The class at DeVeaux that collected the most was made up of students with multiple disabilities.
That the school came together to help a neighborhood food bank didn't surprise young Morrison's classmates Cory Coursen and Muhammed Mahdi, who said the school is full of good people.
"It's a good community school," young Mahdi said.
The canned food drive helps build school spirit, Mr. Henderly said. There's an educational component, too. Students learn about goal achievement, as the school kept them updated on how many cans had been collected. And they learned about the importance of helping a neighbor.
Reka Monus, a coordinator for Crossroads, said the food the students donate will last the entire year.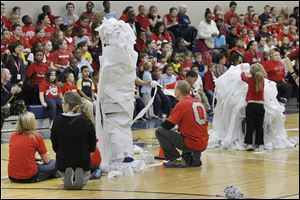 DeVeaux students race to wrap teachers with toilet paper as part of a series of Ohio State-Michigan game week contests, one of which was a food drive for Crossroads Family Resource Center.
THE BLADE/LORI KING
Enlarge | Buy This Photo
"It's wonderful to understand that the community supports what we do," she said.
A rivalry week canned food drive has become somewhat of a tradition in Toledo elementary schools over the years. Walbridge Elementary students collected about 650 cans this year for the Toledo Northwestern Ohio Food Bank, and have donated about 5,500 over the past five years.
At Sherman Elementary, a group of eighth grade girls organized a food drive for the Family House, and they collected nearly 600 cans. The McTigue Elementary community collected nearly 1,000 cans. Arlington Elementary students donated $1 to wear either OSU or UM gear, with the money going to a "secret Santa" for neighborhood families.
Ottawa River Elementary students donated about 2,500 items to the Mustard Seed. Beverly Elementary gave about 1,300, and the National Junior Honor Society there raised more than 500 pet food treats and toys for the Humane Society and Save a Pet. Several other schools also had food drives.
Contact Nolan Rosenkrans at: nrosenkrans@theblade.com or 419-724-6086, or on Twitter @NolanRosenkrans.