BUNDLE UP, HUMANS
Fuzzy area forecaster Hucky predicts more freezing weather
Groundhog Day prediction didn't exactly bring joy
2/3/2014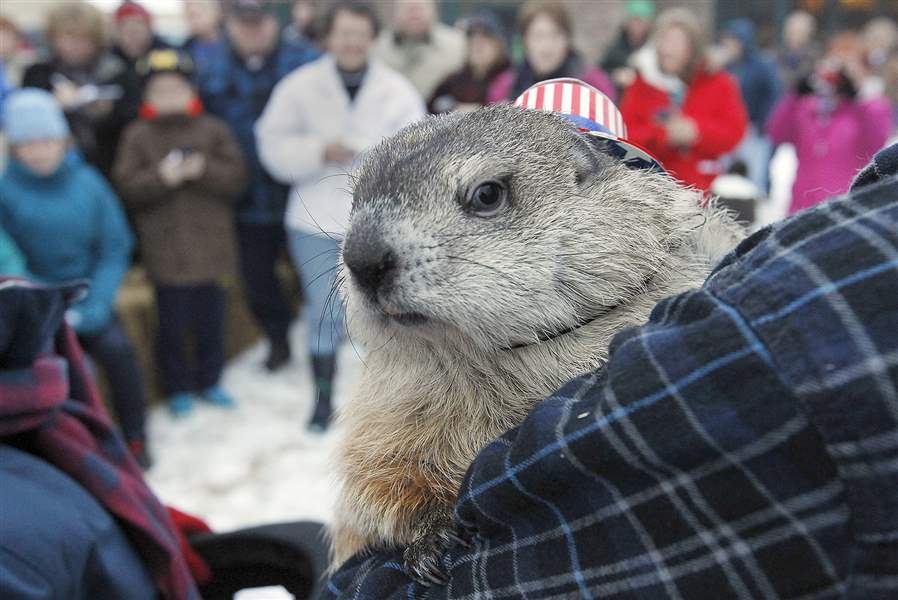 Holland Huckleberry slipped out of his burrow, saw many storms looming on the horizon, and called for six more weeks of winter during the Holland Huckleberry Day Celebration in Holland, Ohio.
THE BLADE/LORI KING
Buy This Image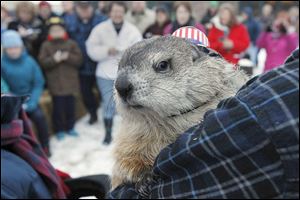 Holland Huckleberry slipped out of his burrow, saw many storms looming on the horizon, and called for six more weeks of winter during the Holland Huckleberry Day Celebration in Holland, Ohio.
With February already looking a lot like January, you just knew Groundhog Day predictions were not going to spring into glad tidings of joy.
Early Sunday morning, the Toledo area's famous furry forecaster, the sweet-toothed seasonal seer, the witty weather wunderkind ... OK, enough stalling ... HuckyToo declared six more weeks of wicked winter before he promptly went back to bed.
With able assistance from his owner, Groundhog Whisperer Charlie Hoag of Springfield Township, the proclamation was declared after Hucky emerged from his burrow in the Hoags' front yard. No Super Bowl Sunday shindigs were going to overshadow this husky hibernator's holiday.
Guests, dozens of them, winced, grimaced, and shivered as the official weather word was delivered by Mr. Hoag during the 14th Annual Holland Huckleberry Day Celebration.
"Hooray! Hooray! It's SUPER Groundhog Day. I know you're all waiting to hear what I'll say. I awoke this morning, and saw such a fright. The whole neighborhood is covered in white. While the snow piles are high, and the wind blows so cold, my annual prediction will BE bold. My fur is thick, with an extra layer of fat and my den is quite warm, so I'm going back, to hide from the storms."
PHOTO GALLERIES:
And then the warning: "Watch out for the Clippers, the Screamers, the Manitoba Mommas, and the big one the British Columbia Basher. I see below normal temperatures, more wind, and more snow, and definitely at least 6 more weeks of wild winter weather to go."
Reaction was swift. The crowd pelted Mr. Hoag with hundreds of snowballs — made of wadded up white paper. With Sunday morning scenery resembling a freshly sugared marshmallow world, black tree branches dressed in winter white, nobody seemed shocked, however.
"Who would have thought?" quipped Scott Frey of Sylvania. A request for a Super Bowl winner prediction brought a shout of "Seahawks." Mr. Frey (a Bengals fan) scoffed. "I want to hear it from the groundhog."
Beth Emery, a board member for Honor Flight of Northwest Ohio, thanks people for the $1,150 raised during the Holland Huckleberry Day Celebration at Charlie and Terri Hoag's home in Holland on Sunday.
Predictably, an early spring was on the minds of many. Russ Varner, a neighbor of Mr. Hoag and his wife, Terri, wants to put away the snow shovel. "I'm ready to cut grass," he said. His wife, Toni, said she's ready to plant flowers.
The Hoags' Groundhog Day Celebration always feels like a warm, friendly hug on a cold day.
Too, guests embrace the opportunity to financially support a special cause, Honor Flight Northwest Ohio. A total of $1,150, donated by the Hoags' guests, was presented to an Honor Flight representative during ceremonies Sunday morning. You have to adore a groundhog who inspires people to donate to a program dedicated to flying area veterans on all-expenses-paid trips to visit memorials in Washington.
HuckyToo's fund-raising efforts follow in the footsteps of the original Holland Huckleberry, adopted by the Hoags when the critter was orphaned in spring, 2000, after a coyote carried off his mother.
Hucky, who had a history of many annual — and accurate — Groundhog Day predictions, passed away in 2010. Mr. Hoag purchased a baby groundhog, now called HuckyToo, from a groundhog breeder in 2011. The groundhog, coincidentally, was born on the first day of spring.
Cara Fischer, 9, of Toledo, who attended the holiday activities with her brother, Aidan, 10, and their aunt Elena Duval of Perrysburg, was excited about seeing a celebrity critter, and she clutched a photograph of Hucky that she had won. Numerous prizes were awarded during the event.
Jen Bicanovsky of Toledo brought a gift — sweetened, dried cranberries, one of the furry fella's favorite foods.
Although the groundhog has made some recent public appearances, he's has been up and about 15 minutes or so a day this winter. "He's into hibernation, that's for sure," said Mr. Hoag.
Jeanne Wagner of Waterford, Mich., was a newbie, taking part in the celebration for the first time. She was intrigued with the plans. "I'm shocked this many people get up this early for a groundhog. It's a great cause, and it's a great community builder."
Other Groundhog Day prognosticators, including famous Phil, predicted more winter rather than an early spring.
Forecasts of a midweek snowstorm swirled in conversations inside the Hoags' toasty warm home. HuckyToo burrowed beneath a pink towel in his bed. Scritch-scratch.
His paws were land-beaver busy. Go with us here, if he can predict the weather, he can make out a grocery list.
Bread, milk, bananas ...
Contact Janet Romaker at: jromaker@theblade.com or 419-724-6006.