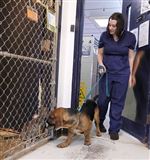 Megan Baker, assistant shelter manager at the Wood County Humane Society in Bowling Green, walks Jammer, a bassett hound mix. Ms. Baker stayed overnight to take care of the animals.
THE BLADE/LORI KING
Enlarge | Buy This Image
Among the people fighting their way through snowy streets Wednesday in spite of snow emergencies were staff and volunteers at area animal shelters.
Caring for animals in a shelter is necessary, regardless of holidays or weather.
"It's 365 days a year," said Megan Baker, assistant shelter manager at the Wood County Humane Society in Bowling Green. "Someone has to be here."
Julie Lyle, director of the Lucas County Canine Care & Control, said having kennel staff to care for animals is considered essential, exempting them from the Level 3 snow emergency declaration that bans all nonessential motorists from the streets.
Ms. Baker and Wood County animal care staff member April McCurdy stayed at the shelter overnight to ensure someone would be there on Wednesday.
"Whenever we have an impending threat of bad weather, we talk among ourselves and decide if someone wants to stay," she said. "It's not required, but it's something we do to make sure someone can be here for the animals."
During January's snowstorm, Ms. Baker and Cassie Williams, another animal care staff member, stayed for three days straight.
"We didn't plan on it being that long," Ms. Baker said. "We had only planned on the first night."
Staff members who volunteer to stay bring in supplies like sleeping bags, clothes, and food. They turn the shelter's office into a makeshift camp, using dog beds and comforters to cushion the floor. The organization also allows them to bring their personal pets to the office overnight if family and friends are unavailable to care for them.
The overnight stays have become a kind of tradition for the dedicated shelter staff.
"It's not every year we have weather like this, but in the past couple of years, I think there's been at least one time each year someone stays," Ms. Baker said.
At the Toledo Area Humane Society, Executive Director Gary Willoughby said staff and volunteers with four-wheel-drive vehicles have been known to pick up their coworkers to make sure the animals can be cared for. "We've had some tough mornings this year," he said.
The drive to the Maumee shelter isn't the only difficulty. Snow drifts piled in front of doors to the building also hamper access.
"We'll bring snow shovels from home because you have to shovel your way into the building," Mr. Willoughby said.
Whoever is able to make it there is put to work caring for animals by feeding and watering them, cleaning kennels and cages, or walking dogs and playing with cats.
"Everybody pitches in wherever we can," Mr. Willoughby said.
The story is the same at the Humane Society of Ottawa County in Port Clinton.
"We have quite a few people who live fairly close," Denny Hammond, shelter manager and humane officer, said. "And we have some fabulous volunteers. One of the dog walkers will show up no matter if she has to walk here."
Mr. Hammond said the effects of a severe snowstorm on shelter operations can vary, depending on the time of the week it hits, as most of the shelter's staff is part time.
"Some days we have more people who live farther out in the country who might not be able to make it in," he said. "Other days we have staff coming that lives pretty close. I have a four-wheel- drive vehicle so I come in anyhow."
Contact Alexandra Mester: amester@theblade.com, 419-724-6066, or on Twitter @AlexMesterBlade.
Guidelines: Please keep your comments smart and civil. Don't attack other readers personally, and keep your language decent. Comments that violate these standards, or our privacy statement or visitor's agreement, are subject to being removed and commenters are subject to being banned. To post comments, you must be a registered user on toledoblade.com. To find out more, please visit the FAQ.