Potholes outlasting warm spell
Today's rain, storm forecasts reducing big repair days to 3
2/20/2014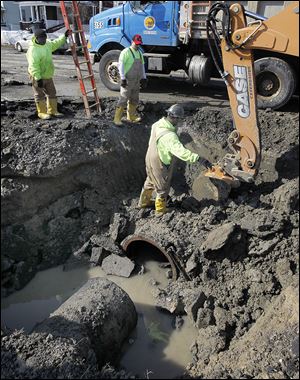 City employees fix a water-main break on Broadway between South Hawley and Stebbins streets in South Toledo. It was the city's second major water-main break in a week, and a city official said he had no idea when Broadway — which sustained extensive buckling and heaving — might reopen.
City and state transportation officials had hoped for close to a week of warmer weather to repair the Toledo area's most pothole-plagued thoroughfares.
But as it stands, they'll be lucky to get three working days in.
Forecasts for rain — perhaps heavy at times with thunder — may make today a washout for the Ohio Department of Transportation and Division of Streets, Bridges, and Harbor crews that were out Wednesday repairing several major pothole zones.
For ODOT, that included northbound I-75 just north of downtown, I-75 southbound south of Perrysburg, and the north-south leg of I-475.
The combination of northbound pothole repairs and deck repairs on the DiSalle Bridge's southbound side turned I-75 into a virtual parking lot downtown for most of Wednesday.
The daylong closing of three of four northbound lanes at Delaware Avenue backed traffic up well into Rossford during the evening rush hour, and backups
persisted late into the evening.
Theresa Pollick, a spokesman at ODOT's district office in Bowling Green, said crews by late afternoon had spread about 100 tons of replacement pavement — one-third more than planned for the day — but were unlikely to get any paving done today.
"Friday and Saturday, we do expect to go back out doing pavement repairs," Ms. Pollick said. Work hours will be 7 a.m. to 7 p.m.
The biggest city project, meanwhile, was on Douglas Road near the University of Toledo — particularly close to University Hills Boulevard — where the battered pavement was ground off and fully resurfaced.
Other crews were out at other spots with hot-mix asphalt to patch potholes, in hopes that the hot mix would be more durable than the standard winter cold patch.
Temperatures are expected to rise above 40 in Toledo for the third straight day today, perhaps even reaching 50. But that warm air also will be wet, with rainfalls of between a quarter inch and half inch expected both during the day and after dark.
Along with thwarting paving, the rain forecast prompted the National Weather Service to issue a flood watch for today through Friday morning for all of northern Ohio because of the combined effect of rainfall, snow melt, and frozen ground.
"A significant amount of water will be released by the melting snow as warmer temperatures move in," the weather service noted. "Any heavy rain could produce significant flooding. Some river flooding is likely. Ice jam flooding can develop quickly and make for a more dangerous flood risk."
The flood potential had authorities in some of northwest Ohio's more flood-prone areas on alert Wednesday, but at least during the morning, none reported any active preparation.
"There's no preparation going on that I'm aware of," said Chad Hoffman, the village administrator in Grand Rapids, Ohio, on the Maumee River's south bank in northwest Wood County.
"We've been talking about it for the past week," said Paul Schmelzer, the safety-service director in Findlay, which has endured several floods in recent years. "A thunderstorm could cause some minor river flooding, but we're not anticipating any massive flooding."
Cooler air was forecast to move in Friday morning behind the storm, but high-temperature forecasts remained in the 30s through Saturday before a return of even colder air for Sunday.
David Welch, Toledo's commissioner of streets, bridges, and harbor, said that while warm weather Wednesday was helpful for street repairs, it was hard to keep work sites dry with snow melting onto the pavement.
Mr. Welch hesitated to say today will be lost to weather, noting that at the very least, crews could grind off some of the Anthony Wayne Trail's worst pavement today to prepare for repaving during drier weather Friday.
The city and ODOT had arranged for a hot-mix asphalt plant to be open Tuesday, but that day was lost because of Toledo's four-plus inches of snow Monday night.
Mr. Welch said his crews got a late start Wednesday because they spent more time than expected plowing problem spots on residential streets Tuesday night, which delayed the availability of trucks Wednesday for paving work.
The city's second major water-main break in a week, meanwhile, closed part of Broadway in South Toledo on Wednesday morning, and Mr. Welch said he had no idea when that street, which sustained extensive buckling and heaving, might reopen.
The break closed Broadway between South Hawley and Stebbins streets until further notice.
Mr. Welch said the pavement repairs it will need appeared to be beyond his crews' capability without diverting them from other tasks for an extended time. He said he did not know how long it might take to get a contractor on the job, and that could become a race against the weather.
The posted detour for Broadway uses South Avenue, the Trail, and Harvard Boulevard.
Contact David Patch at: dpatch@theblade.com or 419-724-6094.