3 area sisters celebrate birth of 3rd set of twins
Family has long history of multiples
3/1/2014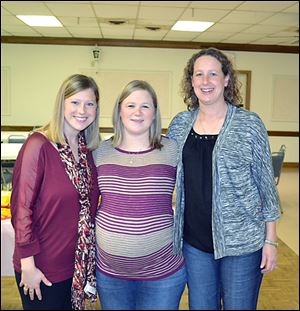 From left, sisters Andrea Gebhart, Courtney Steiner, and Megan Brown are now all mothers of twins. The women, who grew up in Weston, each gave birth to fraternal, boy-girl twins.
For three sisters, a baby bonanza brought an unexpected bonus.
In 2012, sisters Andrea Gebhart and Megan Brown each gave birth to twins. Both sisters had a boy and a girl.
This week, their younger sister Courtney Steiner gave birth. And, yup: She had a boy and a girl.
Three sisters, each with a brother-sister twosome.
By the time Ms. Steiner had an ultrasound, she was prepared for the possibility she could be carrying twins.
"Everyone teased me, 'You are going to have twins,'" said Ms. Steiner, who lives in Waterville with her husband, Robert David Steiner. "I just had that feeling that it was going to happen."
She delivered Henry and Harper on Tuesday.
The three sisters grew up in Weston, where their parents still live.
Their father, Tim McKenzie, has siblings who are triplets. Their mother, Julia McKenzie, said her side includes several sets of twins, though none is closely related.
Ms. McKenzie said she was "kind of hoping" for another set of twins after her first two daughters gave birth to twins and her youngest announced her pregnancy. "I didn't think it would be possible because, what are the odds?" Ms. McKenzie said.
The twin trend has practical benefits. Ms. Steiner said her sisters passed down toys, clothing, and advice, such as "Don't eat two hot fudge sundaes because it doesn't come off afterward."
Ms. Brown, who lives in Wayne with her husband, David, gave birth to Mason and Molleigh in January, 2012. She also has an older son.
"It was definitely a big surprise; we had no clue," said Ms. Brown, the oldest of the three sisters.
In September, 2012, Ms. Gebhart expanded her family to four children when her twins Reid and Reese were born.
Ms. Gebhart said neither she nor her sisters sought fertility treatments. Her husband John's side of the family has four sets of twins, including his father.
Still, the news that she too was having twins was a "shocker."
"At the same time, that's pretty cool that all three of us sisters are having twins," Ms. Gebhart said. "It's wild to even think about it."
Federal statistics show 1 in every 30 U.S.-born babies was a twin in 2009, an increase from 1980 when 1 in every 53 was a twin. A 2012 report by the National Center for Health Statistics explained the increase by pointing to increased use of infertility treatments and the older age at which women are having children.
Ms. Gebhart joked family get-togethers will require renting a hall. Reunions with all the cousins will be a big occasion. "It's going to be crazy," Ms. Steiner said.
Ms. McKenzie, who eagerly anticipated having grandchildren, said she started laughing when Ms. Steiner showed her a sonogram. When she told others the news about her third set of twin grandchildren, they were also incredulous.
"Everyone's just like, 'Are you serious? Are you kidding?'" Ms. McKenzie said. "Go buy [a] lottery ticket."
Taking care of one baby at a time is "hard enough,"she said, but Ms. McKenzie gave her daughters one piece of advice: "It's crazy, but… enjoy it because it will go so fast," she said.
Contact Vanessa McCray at: vmccray@theblade.com or 419-724-6065, or on Twitter @vanmccray.