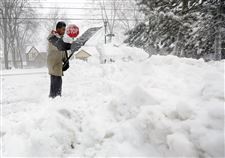 As recently as March 12, snow hit the Toledo area. Marlon Shockley, Jr., shoveled the foot of his driveway on Grimsby Place and Secor Road near the Ottawa Hills-Toledo line during a Level 3 snow emergency that day. It was a familiar scene in the winter of 2013-14.
THE BLADE
Enlarge | Buy This Image
Congratulations, Toledo-area residents, you are hardy cold-weather warriors and survivors of the worst Mother Nature could dish out, according to rankings by the most-received cable channel in the country.
The Weather Channel announced Friday that Toledo's winter of 2013-14 has been the worst of any major city in the United States this year.
Toledo was "the winter misery champ" because of its record-breaking snowfall and significant cold throughout the season, the weather-focused channel pronounced in placing the city atop a list of the 10 U.S. cities with the nastiest weather during the season just ended.
The Weather Channel ranked cities with populations of at least 100,000 in the West, Midwest, and Northeast and pitted them against each other by examining their December-February departure-from-average temperatures and season snowfalls through Tuesday.
10 worst winter cities
1. Toledo
2. Chicago
3. Detroit
4. Billings, Mont.
5. Fort Wayne, Ind.
6. Peoria, Ill.
7. Grand Rapids, Mich.
8. Duluth, Minn./​Superior, Wis.
9. Green Bay, Wis.
10. Twin Cities (Minneapolis/​St. Paul)
The 84.8 inches of snow that fell at Toledo Express Airport through Thursday has already shattered the city's old seasonal snowfall record, 73.1 inches from 1977-78.
January itself was the snowiest on record with 40.1 inches, including the season's two biggest snowfalls: 9.4 inches on Jan. 1-2, and 13 inches on Jan. 5-6. Three other storms this winter have delivered 7 inches or more, on Dec. 14 (7.4), Feb. 4-5 (8.4), and March 12 (7.0).
Both January and February also ranked among Toledo's 10-coldest of those months, and March is well on its way to a similar ranking, with an average daily mean temperature of 26 degrees, 9.5 degrees below normal.
Toledo has broken five daily record low temperatures this winter and tied three others, with the coldest reading of -15 on Jan. 6 being the 10th lowest temperature measured here, according to the National Weather Service. Before this year, Toledo had not broken or tied a daily record low since May, 2008. The 23 below-zero readings so far this winter also ties a record, from 1976-77.
Other area cities cited in the "worst winter index" in the Top 10 include Chicago at No. 2, Detroit at No. 3, and Grand Rapids, Mich., at No. 7.
Toledo also beat out such perennial cold-weather powerhouses as Green Bay, Wis. (No. 9) and Minneapolis-St. Paul (No. 10), which would have risen higher in the ranks if they had more snow.
A dusting of light snow Friday quickly melted in Toledo as temperatures rose to the upper 40s by afternoon, but more unusual cold is forecast for the coming days.
A mix of rain and snow was expected today, after which nightly lows are expected to fall into the teens each of the next four nights, with daytime highs only in the 30s. That range is about 15 degrees below normal for this time of year.
Contact David Patch at: dpatch@theblade.com or 419-724-6094.
Guidelines: Please keep your comments smart and civil. Don't attack other readers personally, and keep your language decent. Comments that violate these standards, or our privacy statement or visitor's agreement, are subject to being removed and commenters are subject to being banned. To post comments, you must be a registered user on toledoblade.com. To find out more, please visit the FAQ.