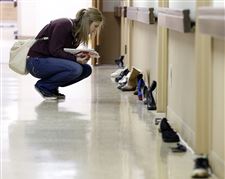 Stephanie Simon, a nursing student at Owens Community College, kneels along a path of shoes — a visual path for healing and education —at Mercy College in Toledo. The shoes belong to victims of suicide. Mercy hosted the 'Step Up. Stop Suicide' event to increase awareness in Northwest Ohio.
THE BLADE/JEREMY WADSWORTH
Enlarge | Buy This Image
There is always a but — that nagging feeling that you could have done more, said Monica Lewis, who lost her daughter, Rachel, 15 years ago to suicide.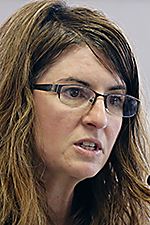 Nathan
THE BLADE
Enlarge | Buy This Image
Ms. Lewis, who lives just south of Perrysburg, said her 21-year-old daughter suffered from schizophrenia and substance addiction. The voices in her head told her to commit suicide.
Rachel spent some time in the intensive care psychiatric unit at Mercy St. Charles Hospital but her insurance coverage ran out and she was released. Her mother feels it was much too soon.
A few days before she died Rachel wrote a good-bye letter to her mother. When Ms. Lewis took the note to the doctor the same day the only question the doctor asked was "Can you keep her safe?"
"I got to a point afterward where I thought I should have jumped up and down on somebody's table. Maybe if they had given her more of the help she needed," Ms. Lewis said.
As a family member of a suicide victim Ms. Lewis is still trying to come to terms with her daughter's death and one thing that helps is to talk about it. She also spends much of her time working with organizations that are trying to help the public better understand suicide.
Two of those organizations, the Lucas County Suicide Prevention Coalition and National Alliance of Mentally Ill of Greater Toledo, partnered with Mercy College of Ohio on Monday to create a traveling memorial for those lost to suicide and to honor those who survived.
The "Step Up. Stop Suicide" program was featured at a daylong mental health fair at Mercy College. There was also a special exhibit called a visual healing and education path that featured a single shoe donated by families of people lost to suicide. Some of the shoes were paired with letters or poems written by family members. On their way into the health fair, visitors walked past the collection of shoes that lined several hallways.
Ms. Lewis said the wooden shoe inscribed with Rachel's name was one of her daughter's favorites. They bought the shoes during a family vacation to Holland, Mich. She also placed a picture of Rachel as a young girl with the shoe along with a poem.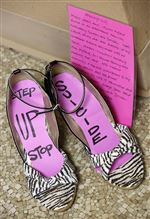 A path of shoes representing victims of suicide at Mercy College in Toledo.
THE BLADE/JEREMY WADSWORTH
Enlarge | Buy This Image
Part of it read: "I can't believe I'll not hug her again. Why did suicide have to come to our lives? There is no end of pain in this loss. Only enduring."
"We can't walk in somebody else's shoes. We don't know the emotional pain that they have been through," said Wendy Nathan, director of counseling at Mercy College.
Ms. Nathan, program organizer, said the 629 shoes in the exhibit represent only six days' worth of suicides in this country. "There's 105 suicides a day and approximately 38,000 a year in the U.S. And suicide, as we know, is under-reported so those numbers are generally higher," said Ms. Nathan.
She said 40-year-old white men are more likely than any other group to commit suicide. "Men don't get help. Women do. Also they use more lethal means. Women attempt more than men, but men complete four times more than women."
Most people that attempt suicide have a mental health issue such as depression and that is why the health fair at Mercy College featured agencies that offer resources that can help. She said the shoe exhibit was designed so that the path would lead directly to the health fair where people could find answers and resources.
Ms. Nathan said it is very important to watch for warning signs to spot people at risk of committing suicide. Those warning signs include isolation, withdrawal from friends, drug or alcohol use, talking about suicide, and giving away possessions.
Family members and friend are sometimes too close to the person in trouble and may miss the warning signs. "So it takes people like teachers and others who are just a little bit removed from the person to spot them,"she said.
This is why part of the goal of this special event was to encourage everyone to step up and ask the tough questions if someone they know is considering suicide, said Ms. Nathan.
"They need to ask, 'Are you thinking of harming yourself?' It feels like a leap to ask that question, but it's important. And if they say yes, probe a little deeper. Find out do they have the means. Are they thinking about it today. Is it just a passing thought — but you need to take it seriously."
It is also important to get the person some help by taking them to an emergency room, calling 911, or reaching out to Rescue Mental Health Services, she said.
The "Step Up. Stop Suicide" traveling shoe exhibit will be on display from 3 to 6 p.m. Wednesday at Lourdes College in Sylvania during a wellness fair.
Contact Marlene Harris-Taylor mtaylor@theblade.com or 419-724-6091.
Guidelines: Please keep your comments smart and civil. Don't attack other readers personally, and keep your language decent. Comments that violate these standards, or our privacy statement or visitor's agreement, are subject to being removed and commenters are subject to being banned. To post comments, you must be a registered user on toledoblade.com. To find out more, please visit the FAQ.