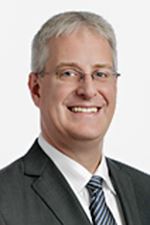 Cavanaugh
Steven Cavanaugh said the search for a new University of Toledo president to replace Dr. Lloyd Jacobs is among the biggest challenges he faces as the newest member of the college's board of trustees.
Mr. Cavanaugh, 44, of Springfield Township is executive vice president and chief operating officer of HCR ManorCare.
Gov. John Kasich on Monday appointed Mr. Cavanaugh, a UT graduate, to fill a vacancy on the board.
Dr. Jacobs, 72, who has led UT as president since 2006, announced last month that he will step down effective June 30, 2015, a year before his contract ends.
"Replacing Dr. Jacobs is the utmost task the board has and the single biggest issue before the board," Mr. Cavanaugh said. "If we do a good job with that then everything else should turn out OK."
A native of Cuyahoga Falls, Ohio, Mr. Cavanaugh earned bachelor's degree in finance from the University of Toledo in 1992 and later graduated with honors with a master's degree in business from the University of Michigan.
"I am excited about the appointment to the board of trustees. UT made a difference in my life," he said. "I owe a tremendous debt of gratitude to the university, and this is a great way to repay it."
Mr. Cavanaugh is chairman of the Business Advisory Council for UT's College of Business and treasurer of the UT Foundation.
Mr. Cavanaugh replaces William Koester, whose nine-year term on the board expired in 2013.
Mr. Koester is the owner of Koester Corp. of Defiance.
Mr. Cavanaugh has spent his entire career in finance with HCR ManorCare.
He joined the health-care services company in 1993 and held positions in financial and strategic planning before being elected vice president, director of corporate development, in 1999.
He was named chief financial officer in 2006 and took over the duties of chief operating officer in 2011. He also is a member of the company's board of directors.
Guidelines: Please keep your comments smart and civil. Don't attack other readers personally, and keep your language decent. Comments that violate these standards, or our privacy statement or visitor's agreement, are subject to being removed and commenters are subject to being banned. To post comments, you must be a registered user on toledoblade.com. To find out more, please visit the FAQ.