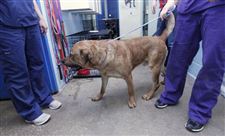 A Lab mix, one of 26 animals seized April 11 from a home on Portsmouth Avenue, is led to a cage by animal-care specialists at the Toledo Area Humane Society in Maumee. The owner has been charged with one count of animal cruelty.
THE BLADE
Enlarge | Buy This Image
The former owner of 26 dogs and cats that were seized by the Toledo Area Humane Society last week has been charged with animal cruelty.
Michael Suiter, 51, who Toledo Municipal Court records indicate is living at 165 Oak St. in Rossford, is facing a second-degree misdemeanor count after 19 dogs and seven cats were removed from his property in the 2200 block of Portsmouth Avenue in Toledo on April 11. The humane society originally reported that six cats were among the mix, but there were actually seven.
Mr. Suiter has surrendered ownership of the animals to the humane society. A few are already up for adoption, others remain at the shelter, and some are going into foster care.
Humane society officials said the animals were living in unsanitary conditions, with feces, urine, and piles of pet food on the floors. They were in good physical condition, other than some minor injuries, but many were unsocialized. Three female cats were pregnant, and one gave birth at the shelter Thursday to six kittens.
Gene Boros, the animal cruelty investigator handling the case, said Mr. Suiter indicated he had intended to begin rescuing animals, but the first ones he took in were not spayed or neutered and subsequently bred. Their offspring were also not altered, and the situation got worse.
He could have been charged with a count for each animal seized. Mr. Boros said he decided to file just one charge because Mr. Suiter cooperated with the humane society and did not appear likely to be a repeat offender.
"It's basically just to get something on his record so if it happens again, the penalties will be more severe," Mr. Boros said. "It's a deterrent."
Mr. Suiter is scheduled to be arraigned at 9 a.m. Tuesday.
Contact Alexandra Mester: amester@theblade.com, 419-724-6066, or on Twitter @AlexMesterBlade.
Guidelines: Please keep your comments smart and civil. Don't attack other readers personally, and keep your language decent. Comments that violate these standards, or our privacy statement or visitor's agreement, are subject to being removed and commenters are subject to being banned. To post comments, you must be a registered user on toledoblade.com. To find out more, please visit the FAQ.