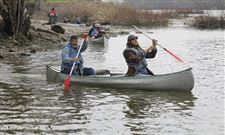 David Greene, left, and his son, Rowan, a member of Save Maumee, begin to navigate their canoe Friday down the Maumee River at Grand Rapids, Ohio. The group said 16 members were set to pad-dle the entire way from Fort Wayne, Ind., to International Park in downtown Toledo.
THE BLADE/LORI KING
Enlarge | Buy This Image
GRAND RAPIDS, Ohio — Hard-cores only.
Abigail King had a playful, ebullient tone in her voice as she kept repeating those two words along the Maumee River shoreline inside Mary Jane Thurston State Park on Friday morning, waiting for rain clouds to pass and the gray, fickle northwest Ohio sky to clear.
"Hard-cores only" was her way of describing who among the most hearty souls in her nonprofit group, Save Maumee of Fort Wayne, Ind., were up to the task of taking on one of the fastest-moving and most rocky parts of the iconic river. Those two words were almost a rallying cry, a wake-up call.
In reality, Ms. King, 40, knew most, if not all, of those with her group, would paddle.
But she also used those words to temper her enthusiasm and love for nature with a practical assessment of the challenges that lay ahead, a way to remind her fellow canoeists they can be inspired by the Maumee's beauty, yet — above all — need to remain safe.
Save Maumee, formed in 2005, decided to take its commitment to the Maumee River to a higher level this Earth Week by canoeing all 141 miles of it, starting April 19 in a waterway called Junk Ditch at Smith and Engle roads in Fort Wayne.
The group, which started out with 24 paddlers, expects to have 16 of them go the entire course. The canoeists were scheduled to spend Friday night in Perrysburg, launch from Perrysburg's Maple Street boat launch this morning, and finish this afternoon at International Park in downtown Toledo.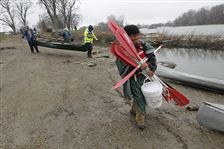 Crew medic Josh 'Turtle' Eng carries paddles as the Save Maumee group prepared to launch their boats into the Maumee River at Grand Rapids, Ohio.
THE BLADE/LORI KING
Enlarge | Buy This Image
They aren't beholden to a set schedule; they're playing it by ear.
Ms. King, Save Maumee's vice president, jokingly said they're "on river time."
The environmental group's biggest goal is to raise awareness of the Maumee, a historically significant river that's also one of the Great Lakes region's largest and most diverse tributaries. Sections of it are prime spawning habitat for walleye and other fish. But the river, at various points, faces myriad issues, such as pollution from combined sewer overflows, farm runoff, and an assortment of impacts from industry to lawn fertilizers.
Several canoeists said they were struck by the contrast between piles of trash along some parts of the shoreline and the serene, unspoiled beauty of the river in others.
"I was shocked to discover there was even more pollution downstream," said Rowan Greene, 20, of Fort Wayne, who has participated in numerous cleanups along the Maumee near his home.
Mr. Greene was taking the trip with his parents, David Greene, 52, and Jain Young, 54, also of Fort Wayne, who have been paddling — and trying to promote awareness of Maumee-based environmental issues — for years.
"Water is life," David Greene explained. "It is symbolic of how we treat the planet in general."
Save Maumee has a couple of nuts-and-bolts objectives on the trip to go along with the general theme of public awareness, such as more-precise GPS tracking of sewage outfalls and research into the flood-control benefit of vegetation, especially near levees.
But the full-length excursion along the Maumee has done more than put participants closer to nature.
It's also been a bonding experience, bringing group members closer together as they pulled for each other and camped along the way.
"It's a beautiful thing to form relationships and bond," Mrs. Young said.
Several businesses and individuals have been part of the relationship-building exercise, donating pizzas, coffee, and natural health foods.
One anonymous man from Arkansas who learned of the trip showed up unexpectedly at Mary Jane Thurston with two pop-up tents, two stoves, cooking gear, and about $400 to $500 of food.
"We wanted to reach out and let you [people in the Toledo area] know there are people upstream who care," Ms. King said. "I put this together with blood, sweat and tears, and with the help of strangers and Save Maumee members."
Save Maumee has four of its members gathering footage for possible video shorts, public service announcements, or documentaries.
One of the paddlers is Justinian Dispenza, 24, a Fort Wayne videographer who recently returned from China, where he said he worked on documentaries for the Environmental Education Media Project, a group formed in 1997 that has created environmental films throughout Asia, Europe, and Africa.
"This is really important because it's in my own backyard," Mr. Dispenza said of the Maumee. "Why go halfway around the world when I can do it here?"
Contact Tom Henry at: thenry@theblade.com or 419-724-6079.
Guidelines: Please keep your comments smart and civil. Don't attack other readers personally, and keep your language decent. Comments that violate these standards, or our privacy statement or visitor's agreement, are subject to being removed and commenters are subject to being banned. To post comments, you must be a registered user on toledoblade.com. To find out more, please visit the FAQ.