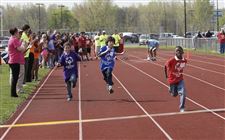 THE BLADE/JETTA FRASER
Enlarge | Buy This Image
Jason Okey, 11, Peter Knight, 10, and Joseph Dotson-Handy, 8, from left, compete in the 50-yard dash as students from Toledo Public Schools participate in the Special Olympics at Rogers High School. About 125 students from the Bowsher, Rogers, and Waite High areas competed Friday; students from the Scott, Start, and Woodward areas are scheduled to compete next Friday. More than 50 volunteers helped out and gave their support to the athletes.
Guidelines: Please keep your comments smart and civil. Don't attack other readers personally, and keep your language decent. Comments that violate these standards, or our privacy statement or visitor's agreement, are subject to being removed and commenters are subject to being banned. To post comments, you must be a registered user on toledoblade.com. To find out more, please visit the FAQ.