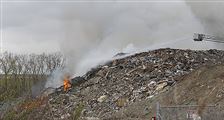 Toledo firefighters work earlier this month to extinguish the fire that broke out at Stickney Recycling, a construction and demolition debris landfill in North Toledo.
THE BLADE
Enlarge | Buy This Image
Testimony ended Wednesday without a ruling after a two-day hearing about Stickney Recycling, a North Toledo landfill that imperiled some area residents when it was engulfed in flames the first weekend in May.
Lucas County Common Pleas Judge Linda Jennings hopes to end the dispute between the Ohio Attorney General's Office and the landfill's owner-operators after a May 28 conference call.
In the meantime, a temporary restraining order preventing Stickney Recycling from accepting new waste shipments stays in effect, Judge Jennings ordered.
Assistant State Attorney General Robert Eubanks said the attorney general's office continues to have concerns about the potential for more fire at the site, a construction and demolition debris landfill that contains cancer-causing asbestos and other potentially hazardous forms of waste. The site is adjacent to the city of Toledo's Dura Avenue landfill.
During the peak of the landfill's blaze, from May 2 to 5, the Toledo-Lucas County Health Department urged residents to stay indoors to reduce the odds of inhaling cancer-causing asbestos fibers and other pollutants that may have been wafting through the air.
Many residents complained of burning eyes and odors.
Mr. Eubanks said he's glad the judge kept the temporary restraining order in effect for the time being.
On the first day of the hearing, he presented evidence from several health and environmental inspectors that Stickney Recycling may have continued to burn beneath its surface intermittently for a week after firefighters thought the blaze had been extinguished May 5. State attorneys also believe it may have been burning beneath its surface for two weeks before flames became visible May 2.
"We think, at least in the interim time period, the public is served," Mr. Eubanks said.
The state staunchly opposes the owners' plans for interim shortage and would likely appeal the judge's decision if she allows Stickney Recycling to accept waste on a temporary basis.
Ohio Revised Code allows for up to two years of temporary storage for such facilities, with fewer regulations than permanent landfill cells. Stickney Recycling is seeking up to a year, although one of its lawyers said the goal would be to move incoming waste through the temporary holding facility quicker.
"I have to say I'm concerned about issuing an order that would allow temporary storage for a year," Judge Jennings said.
Michael Cyphert, a Cleveland attorney representing Stickney Recycling's landfill owners and operators, said even the temporary halt on shipments is taking an economic toll on the company.
"The company's employees — their jobs would be in great jeopardy. That's the best way I can put it. They would probably lose their jobs," Todd Davis, an attorney and representative for the landfill owners and operators, testified on Wednesday.
Stickney West C & DD LLC, Stansley Mineral Resources, Hemisphere Ltd., and Stickney Holdings LLC are the four companies previously identified as the site's partners.
However, in court Tuesday, despite Mr. Cyphert's objection, Stickney West was identified by an Ohio Environmental Protection Agency witness as property owner and license holder, while Stansley Mineral Resources was identified as landfill operator.
John Pasquarette, environmental manager for the state agency's northwest district office in Bowling Green, said Hemisphere transferred title to the property to Stickney West before the Ohio EPA issued the site its most recent license in 2012.
Mr. Davis said he continues to represent each of the companies. He declined to single out one as primary owner or primary operator.
The hearing's first day was highlighted by evidence that the fire may have lingered.
"It smells like a campfire with a putrid smell to it. It smells like it's just not wood burning, like there's some chemical smell to it," Sue Handy, an Ohio EPA inspector, testified. She said she observed smoke on May 7 and again on Monday.
Toledo Deputy Fire Chief Richard Syroka said he believed the fire was snuffed out when crews cleared the scene on May 5 after hosing off what they believed were the last remaining hot spots.
Lt. Matt Hertzfeld, Toledo Fire Department spokesman, said he was not aware of plans for the department to return to the site.
But he told The Blade on Tuesday night that possibility would be discussed in light of the evidence presented in court.
"I would imagine in light of this testimony it'll be reviewed," he said. "The unfortunate side of these dump fires is they can burn for weeks."
Contact Tom Henry at: thenry@theblade.com or 419-724-6079.
Guidelines: Please keep your comments smart and civil. Don't attack other readers personally, and keep your language decent. Comments that violate these standards, or our privacy statement or visitor's agreement, are subject to being removed and commenters are subject to being banned. To post comments, you must be a registered user on toledoblade.com. To find out more, please visit the FAQ.