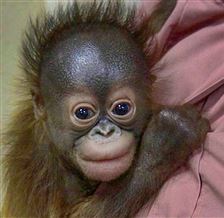 Zoo officials will try to find a new home and surrogate mother for Kecil, who was born Jan. 11, after his mother rejected him.
TOLEDO ZOO/JUDITH WOLFE Enlarge
A baby orangutan at the Toledo Zoo is looking for a new home and a surrogate mother.
The male primate named Kecil was born Jan. 11 weighing 3.4 pounds. The mother, Yasmin, left her baby in a holding area after giving birth and went back to hang with the rest of the orangutan group in the exhibit.
"We knew something was wrong right away," Dr. Randi Meyerson, assistant director of animal programs, said. "The mothers are always holding them. They don't put them down."
Yasmin arrived at the Toledo Zoo last spring from Omaha's Henry Doorly Zoo and Aquarium in Nebraska. Dr. Meyerson said Yasmin and the zoo's male orangutan, Boomer, have rare genes, meaning they do not have tons of relatives and are valuable for keeping genetic diversity in the orangutan population.
Yasmin has raised two babies, and the zoo was confident she would do so again. Dr. Meyerson said mothers usually don't reject their babies, but the problem isn't rare either.
"It would be more common for first-time moms who haven't done it before," she said. "This definitely surprised us."
Kecil has been hand-reared by the staff while they have tried for the last several months to reintroduce him to his mother, hoping she would bond with him and accept him back.
Dr. Meyerson said that while Yasmin showed interest in Kecil and was trained to let the baby nurse from her while staff fed her treats, she simply did not show any desire to rear her baby.
"She was taken off exhibit for a while, and she just wanted to be back with the other orangutans," she said.
The zoo staff said there's no way to determine why Yasmin rejected Kecil, but Dr. Meyerson said she might have had a difficult labor that affected her desire to care for the baby. Yasmin was examined by veterinarians and is healthy.
The zoo is working with the Orangutan Species Survival Plan and the Association of Zoos and Aquariums to place Kecil with a female with strong maternal instincts to care for him. The surrogate will not have a milk supply, but Kecil has been trained to receive milk from a bottle given by keepers through training mesh, but the female will rear him in all other ways.
"The best thing for him is to be raised by another orangutan," Dr. Meyerson said. "He's a very genetically valuable orangutan for this population. He's got a big job to do when he grows up."
A new zoo has not yet been chosen.
Andi Norman, director of public relations for the zoo, said the zoo tries to prevent animals from forming too close of a bond with their human keepers.
"They don't know how to act and how to fit into the social structure with their own kind," she said. "We want the parents to rear their young so they know they are that species."
Though Kecil was born full term, he is small — his name means "little man" in Indonesian — and he was slow to reach developmental milestones. The staff had to be sure he would hit those marks before sending him to a surrogate.
"We just had to make sure he was in good enough shape," Dr. Meyerson said. "He's normal now, and as soon as we identify a place, [the transfer] should happen pretty quickly."
Yasmin has been recommended for breeding again. She is back with the rest of the orangutans and should breed with Boomer when she's ready. Dr. Meyerson said there's no way to tell how she could be with her next baby, but she still has a good track record.
"There's always concern, but hopefully whatever was the issue this time around won't be an issue again," she said.
Kecil, who now weighs 8.27 pounds, will not be on display with the Toledo Zoo's six other orangutans in the Kingdom of the Apes exhibit before he is transferred.
Contact Alexandra Mester: amester@theblade.com, 419-724-6066, or on Twitter @AlexMesterBlade.
Guidelines: Please keep your comments smart and civil. Don't attack other readers personally, and keep your language decent. Comments that violate these standards, or our privacy statement or visitor's agreement, are subject to being removed and commenters are subject to being banned. To post comments, you must be a registered user on toledoblade.com. To find out more, please visit the FAQ.