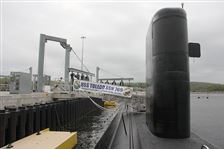 The USS Toledo was just days away from its Groton, Conn., homeport before receiving orders to respond to an emerging world crisis. The submarines are spies of the deep. They battle other subs and fire at land targets.
THE BLADE/DAVID PATCH
Enlarge | Buy This Image
GROTON, Conn. — After a midlife makeover, the USS Toledo fast-attack submarine is returning to service under its new commanding officer, native Toledoan Michael Majewski.
But like those who led the boat before him, don't expect Commander Majewski to speak in much detail about his vessel's exploits when he returns to his hometown — or when, in perhaps three years or so, he stands on the same dais in this southeastern Connecticut town to be relieved by the Toledo's 10th captain.
"I would love to tell you the stories from our missions … but that would break every classification rule in the book if I did," Cmdr. Sam Geiger, Commander Majewski's predecessor in that role, said Friday during a Change of Command ceremony at the U.S. Naval Submarine Base New London here.
He could only note that the USS Toledo was just five days' sail away from its Groton homeport at the end of its most recent overseas deployment when it got new orders to turn around and respond to an emerging world crisis that extended that six-month tour by a month.
That's because along with their military capacity to battle enemy submarines and other naval vessels, or fire cruise missiles at land targets, the Los Angeles class that includes the Toledo are the spies of the deep. They're underwater surveillance posts designed for stealth.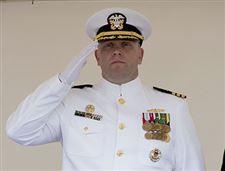 Cmdr. Michael Majewski
"We deploy in support of the missions that the national command has for us," Commander Majewski said Thursday after stating he could only be "very generic" about what he and his crew of about 157 men will do during the Toledo's next forward assignment.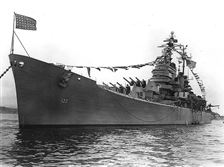 The first USS Toledo, moored in Japan in 1950, was a heavy cruiser. Its construction began in 1943 and finished in 1946. It was one of the first U.S. warships deployed to Korea after the 1950 invasion by the North.
Vague history
Its history is similarly vague, with occasional moments of detail.
One occasion that the Navy acknowledges was the Toledo firing weapons at a hostile target during Operation Iraqi Freedom. It was diverted from training exercises to serve in a surge deployment between February and April, 2003, along with four other Groton-based boats.
Its missiles hit targets in Iraq from the Red Sea, said Lt. Timothy Hawkins, a public affairs officer for Submarine Group 2 in Groton.
The Toledo previously had deployed, in late 2001 and early 2002, to the Mediterranean Sea in support of Operation Enduring Freedom — the Afghanistan campaign.
It had been to the Mediterranean during its first deployment, with the USS George Washington Battle Group, in 1997-1998. Then it had a six-month tour of the North Atlantic in 2000, Lieutenant Hawkins said.
That the Toledo was in the North Atlantic at that time is the only official thread placing the boat anywhere near the sinking of the Russian navy submarine Kursk in August of that year.
Russian investigators ultimately blamed a fuel leak from a practice torpedo being handled aboard the Kursk during a military exercise for an explosion that triggered the disaster. But the country's military leaders for two years publicly theorized a possible collision with the Toledo or a sister American submarine that was supposedly monitoring the Russians' war games.
Lieutenant Hawkins said the Navy will not confirm or deny the Toledo's presence at the Kursk sinking, which killed 118 Russian submariners.
He had noted, however, that as one of the later-built members of the Los Angeles class — 57th out of 62 built — it has a hardened sail and retractable bow planes that allow it to surface from under ice during operations in the Arctic Sea.
Submarines so outfitted are "the only platform in the Navy that can operate in that region year-round," the lieutenant said.
In more recent years, the Toledo's forward duties have been primarily in the Middle East.
Its farthest voyage took it to the British territory of Diego Garcia in the central Indian Ocean.
Lieutenant Hawkins described its most recent deployment — the one that got the abrupt one-month extension — simply as "theater responsibility" for the U.S. Central Command and Africa Command.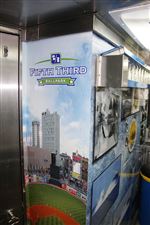 A photo mural of Toledo's Fifth Third Field graces the interior of the USS Toledo. Some of the crewmen have been to Mud Hens games during visits to the area to speak at schools and attend trainings.
Special bonds
Commander Majewski enlisted after graduating from Start High School. He envisioned himself as a future Navy SEAL. But he said the submarine service captivated him during a familiarization cruise while he was a midshipman at the U.S. Naval Academy.
The bonds he observed among the crew were what distinguished the subs from other Navy ships, the 41-year-old said.
"There's a side of me that wants to be on the front lines. But there's a side that really enjoys doing what we do down here," Commander Majewski said.
Lt. Jason Riley, posted to the Toledo just six months ago but with 20 years now in submarines, said such camaraderie is what keeps him in that part of the Navy too.
"It's a high quality work force. People do a really good job taking care of each other," he said. "We rely on each other and trust each other to save your life."
Tight quarters
The flip side is that submariners generally live and work in much closer quarters than other sailors, but Petty Officer Jorge Hernandezpolo, a machinist's mate 3rd Class, said that can be learned.
"You just get used to it once it's part of daily life," he said. "There is a risk of losing your sense of personal space, because the only personal space you have here is your rack [bunk bed]."
The submarine service is also known for extended deployments, with six months being normal.
But Tracey Majewski, Commander Majewski's wife and mother of their three children, said that too is something spouses can get used to over time.
For now, the fast-attack submarines have all-male crews because of no space for gender specific showers, toilets, and sleeping quarters.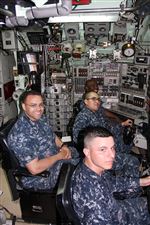 USS Toledo crew members, from front, Seaman Michael Delloiacono and Petty Officers Tyler White, Jorge Hernandezpolo, and Montez Curry are in the sub's control room while docked at the U.S. Naval Submarine Base New London in Groton, Conn.
THE BLADE/DAVID PATCH
Enlarge | Buy This Image
Middle-aged sub
Now more than 20 years from its completion at Newport News Naval Shipyard and less than a year short of the 20th anniversary of its February, 1995, commissioning, the Toledo is a middle-aged submarine.
Its fresh overhaul at General Dynamics Electric Boat shipyard, at an initially contracted cost of $48 million, is actually the second such project since 2007, when the boat started 27 months in Newport News receiving upgrades to its navigation, propulsion, and weapons systems.
Even so, the Toledo's expected service life only extends into the middle of the next decade — about 30 to 33 years overall, Lieutenant Hawkins said.
USS TOLEDO AT A GLANCE
Builder: Newport News Naval Shipbuilding Co.
Completed: August, 1993.
Commissioned: Feb. 25, 1995.
Propulsion: One nuclear reactor, one shaft.
Length: 360 feet.
Beam: 33 feet.
Displacement: About 6,900 tons submerged.
Top speed: About 28 mph (25 knots).
Crew: 18 officers, 140 enlisted.
Armament: Tomahawk missiles, 12 Vertical Launch System tubes; MK48 torpedoes, four torpedo tubes.
SOURCE: U.S. Navy
Second Toledo
The submarine is the second Navy vessel commissioned with the USS Toledo name.
The first USS Toledo was a heavy cruiser whose construction began in 1943 and was completed in 1946. While it thus was too late for service in World War II, it became one of the first U.S. warships deployed to Korea after the North Koreans invaded South Korea on June 25, 1950.
"She was the first ship to fire an eight-inch shell into Korea," John Farris, who coordinated a reunion of the cruiser's crew members in Toledo in 1993, told The Blade during that event.
The cruiser Toledo received five battle stars for its service during the Korean War, which included participation in a naval battle group that provided cover for critical beachhead landings at Inchon.
The vessel's three battle tours during that conflict were heavy with shore bombardment duties, protection of amphibious landing forces, and occasional rescues of pilots whose downed planes crashed into the sea.
After the 1953 armistice in Korea, the original USS Toledo continued to hold down assignments in the western Pacific, patrolling waters near Korea and making goodwill calls on other ports in the region. In January, 1955, the cruiser joined a carrier fleet that guarded the evacuation of nationalist Chinese from islands between China's mainland and Taiwan.
The cruiser was decommissioned in 1960 but was held in a reserve fleet in San Diego until 1974, when it was stricken from the Navy's roster and sold for scrap.
During that time, Toledo officials considered bringing the vessel to its namesake city, but Mayor Harry Kessler said he could not justify the $1.5 million to $2 million cost the city would incur to establish it as a floating museum.
The ship's bell was placed on display at the Naval and Marine Corps Reserve Center in Perrysburg Township, while its dedicatory plaque was given to the city, along with the return of the silver service.
Commander Majewski is devising a plan to display two platters from that silver service and other Toledo memorabilia that are still with the USS Toledo.
Local links
It's unlikely the current USS Toledo will ever be seen in Toledo either; its 32-foot draft makes it too big for the Toledo Harbor Channel and other channels and canals in the Great Lakes-St. Lawrence Seaway navigation system.
But over the years, crew delegations from the submarine, including many of its commanding officers, have visited Toledo to meet with community groups and local leaders, visit schools, receive medical and firefighting training, and attend the occasional Toledo Mud Hens game.
Those visits were "amazing times for the guys who got to go," said Petty Officer Mickey Ely, an electronics technician 1st Class from suburban Baltimore who has been in the submarine service for five years, all with the Toledo.
Other obligations kept him from the most recent trip last summer, but Mr. Ely said he "knows a lot about the Mud Hens" and that Toledo is "far up in the way northwest corner of the state."
Petty Officer Tyler White, a machinist's mate 1st Class from Tacoma, Wash., said he followed his shipmates' most recent trip to Toledo on Facebook.
He couldn't go but is "requesting to see if I can go next time."
Assigned to the boat for 4½ years, he was present during the Toledo's previous stateside hitch when Tony Packo's delivered a meal for the boat's crew during a port call.
Commander Majewski said that besides setting up crew delegations to Toledo for training or other purposes on his own initiative, "I hope to hear from the city about any major events" at which a presence from the submarine might be welcomed, such as community festivals.
A typical commanding officer tour for a submarine ranges between "two years and a couple months to three years and a couple," the Toledo's captain said.
Because the boat is fresh out of the shipyard, Commander Majewski said it's possible he will become the first of the Toledo's nine commanders to shepherd it through two forward deployments during a command tour, but only time will tell about that.
"Sam [Geiger] set me up for success here," he said. "The boat is in good shape, and the crew is in good shape — especially the crew part."
Contact David Patch at: dpatch@theblade.com or 419-724-6094.
Guidelines: Please keep your comments smart and civil. Don't attack other readers personally, and keep your language decent. Comments that violate these standards, or our privacy statement or visitor's agreement, are subject to being removed and commenters are subject to being banned. To post comments, you must be a registered user on toledoblade.com. To find out more, please visit the FAQ.