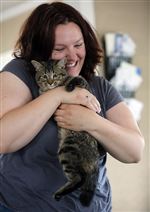 Dragon, a kitten surrendered by its owner, is held by foster caretaker Meaghan Fitzpatrick. Dragon was born with deformed legs. A right hind leg was useless, and was removed April 30.
THE BLADE/AMY E. VOIGT
Enlarge | Buy This Image
A local animal-rescue group is caring for three cats who all came to the organization needing leg amputations within the span of about a week.
The trio of tripods is up for adoption while Planned Pethood seeks donations to pay off two of the three surgeries.
"It's not common to have that many at once," Karen Latta, cat intake coordinator, said. The group usually gets one animal every month or two that needs amputation surgery. "We give priority to some of the animals with dire needs."
The first cat, an orange and white male named Fletcher, was found with a feral cat colony and caught in a live trap April 23 by the colony's caretaker. His left front leg had been badly broken, healed incorrectly, and was infected.
The friendly 1-year-old stray had been caught as part of a trap-neuter-return program and was taken to Humane Ohio, a low-cost spay/​neuter clinic in Toledo. The clinic paid for his amputation, and he had surgery April 25.
"He's done very well," Nancy Fisher, Fletcher's foster caretaker in Monroe County's Whiteford Township said. "He was used to being on three legs already because he didn't use the bad one."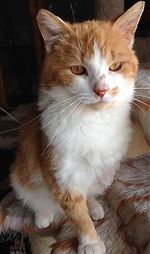 Fletcher was in a feral cat community and got trapped as part of a trap, neuter, return program. He had a badly broken leg that was then amputated.
Mrs. Fisher said Fletcher looks a little beat up from living through a harsh winter with a feral cat colony, but he is very loving.
"He's a sweet cat, one of those that's so grateful to be saved," she said. "He doesn't have a mean bone in his body."
The second cat, a 6-month-old tabby named Dragon, was surrendered April 26 by an owner who couldn't handle his kitten energy. Ms. Latta said that owner also had no plans to help Dragon with his deformed legs.
Dragon's front legs are permanently bent at nearly 90-degree angles, possibly missing joints. His left hind leg doesn't extend fully and the hip joint isn't normal. His right hind leg was useless, and was removed April 30.
"It was almost completely backwards with the foot facing the wrong way," Dragon's foster caretaker, Meaghan Fitzpatrick of Toledo, said. "When he would run, that leg would swing and he would trip and face-plant.
"He just really wasn't very mobile at all," she said.
His tail is also permanently angled off to one side with a couple of elbowlike bends in its short length.
Dragon still doesn't get around normally and can't jump up onto things, but can now run and play and climb without being tripped by his own leg.
"He's got more confidence now because he can move better," Ms. Fitzpatrick said.
Rounding out the trio of tripods is Russell, an orange stray caught May 1. Russell, estimated to be 2 or 3 years old, had been shot and was dragging a front leg.
"A volunteer saw him and got a humane trap, but she didn't need it," Ms. Latta said. "He ran right up to her."
Russell's shattered leg was removed May 2, and it no longer holds him back.
"He can run pretty doggone fast," the cat's foster caretaker, Karen Russell of Toledo, said. "He jumps up on the cat tree and across the top of a tall cage to sit in the window, so he gets around great."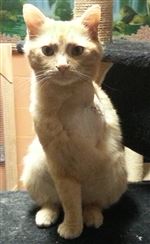 Russell is a stray cat that had been shot before being picked up by Planned Pethood. His injured leg was then amputated.
Ms. Russell said her foster cat appears to have been owned at some point as he was already neutered, but no one claimed him.
"He's so sweet, someone loved him at some point," she said. "He wants to sit on your lap, rub up on you."
Planned Pethood is trying to raise $2,400 to cover the cost of the two approximately $1,000 surgeries and subsequent care for Dragon and Russell.
"The average cost of a cat we take in is significantly less," Ms. Latta said. "It's very rewarding when somebody comes and completely falls in love with these special-needs kitties. Anything we collect over the cost of their vet care will go to help the next one that comes in."
To contribute, visit youcaring.com and search for "Amputations for Russell and Dragon."
All three cats are available for adoption. For more information on adopting them, visit plannedpethood.org.
Contact Alexandra Mester: amester@theblade.com, 419-724-6066, or on Twitter @AlexMesterBlade.
Guidelines: Please keep your comments smart and civil. Don't attack other readers personally, and keep your language decent. Comments that violate these standards, or our privacy statement or visitor's agreement, are subject to being removed and commenters are subject to being banned. To post comments, you must be a registered user on toledoblade.com. To find out more, please visit the FAQ.