Lucas County residents search for cash prizes in scavenger hunt
6/27/2014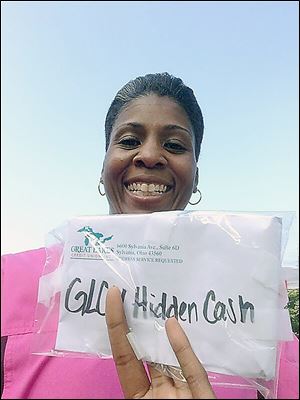 In this photo taken from Twitter, Erica Banks shows her winnings of the Hidden Cash scavenger hunt sponsored by the Great Lakes Credit Union. Ms. Banks tweeted a photo at 5:50 a.m. Thursday after she made her find near the Toledo Museum of Art.
The promotion is called "Hidden Cash," a daily scavenger hunt for cash, a game that is taking the nation by storm. But for the promoter of Toledo's version, Great Lakes Credit Union, the most difficult part is hiding the dough fast enough before Toledo's money-hungry searchers show up.
"People are already out there looking before our staff can get out there to hide the envelope filled with money," said David Seeger, president and CEO of Great Lakes Credit Union. The two-week promotion kicked off Wednesday.
Every day, the credit union places $50 cash in a white envelope and hides it some place in Toledo, Perrysburg, or Sylvania, Mr. Seeger said.
On Wednesday, it took Toledo resident Michelle Kaliken Brooks two minutes to find the envelope of cash at Wildwood Preserve Metropark. She tweeted a photo of herself holding an envelope of money at 5:26 a.m. Wednesday.
Toledo resident Erica Banks tweeted a photo at 5:50 a.m. Thursday of her find near the Toledo Museum of Art.
Clues on where to find the money are provided daily on the credit union's Facebook page and by logging onto its Twitter account, @GreatLakesCUInc.
"We don't want to make it too hard," Mr. Seeger said. "We want people to find it."
The intent of the promotion is to draw more traffic to the credit union's social media sites. After just two days, traffic to the company's Web site, Facebook, and Twitter "has increased by 6,000 percent," a stunned Mr. Seeger said. Another goal is to raise public awareness of the existence of the credit union, which has been in operation since 1940.
The Hidden Cash craze began in early June when Jason Buzi, a California real estate investor, decided the cash giveaways would be a "fun way to give back to the community" according to various media outlets that interviewed him. Mr. Buzi said he hoped the people who found the money would use the money to buy groceries or gas for other people or donate the money to the homeless or charitable causes.
Since then, others have joined in on the Hidden Cash scavenger hunt and similar efforts have expanded to other cities, including New York, Chicago, Houston, St. Louis, and Mexico City.
Mr. Seeger said he hoped Toledo-area residents would keep the spirit going and use the found money for essential items for themselves or to help others in need.
Ms. Brooks said Wednesday that she would be donating her $50 to the Lake High School Library so it could buy some new books. Ms. Banks could not be reached for comment.
Contact Federico Martinez at: fmartinez@theblade.com or 419-724-6154.