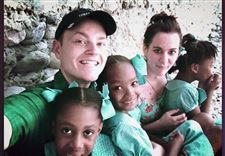 Allen Freeman, left, and Aubrey Crosby visited an orphanage during a Decemeber visit to Les Cayes, Haiti. Mr. Freeman, a pilot, helped arrange air travel.
Aubrey Crosby has been so moved by a series of visits to Haiti, she wants to share her love of the island nation with Toledo.
Her charity, To Raise a Home, will host the Heart for Haiti fund-raiser from 6 p.m. to midnight July 19 at the Blarney Event Center, 601 Monroe St.
The event will be the second fund-raiser for the charity, which Ms. Crosby started in August, 2013, after a summer mission trip to Haiti.
The first event raised about $1,500 for the construction of an additional building for the orphanage with which she primarily works, Les Foyer des Enfants de la Providence (The Center for Children of the Providence) in Les Cayes, Haiti.
"These kids are real. I think it can be easy to distance ourselves from communities or groups that are across the ocean or across the world, but these people matter, and the community matters," Ms. Crosby said. "We're obligated to recognize and be a part of a global community."
Ms. Crosby, 23, a writing instructor at University of Toledo and Siena Heights University fell in love with the people of Haiti after going on trip with her friend Stephine Sawicki, whom she met while attending Siena Heights University.
"Back in 2011, I was approached to be a part of a team for Mission of Hope Haiti and I asked Aubrey to participate," Ms. Sawicki said. "It was one of those life-changing experiences." Ms. Crosby said she has no religious affiliations but is grateful that the mission trip introduced her to Haiti and its plight.
A 7.0-magnitude earthquake devastated Haiti in January, 2010. One of the poorest countries in the world, Haiti has struggled to recover.
After her original trip to Haiti in 2011, Ms. Crosby visited twice more. Her June, 2013, trip with local nonprofit group Hearts and Hands for Heroes introduced her to the Foyer des Enfants. It also introduced her to Allen Freeman, a pilot from northeast Ohio.
Ms. Crosby said that for her first independent trip in December, 2013, Mr. Freeman offered to fly her back to Les Cayes, Haiti, on his airline for a discounted price. He even accompanied her to the orphanage and met the girls that To Raise a Home supports.
"Through his support and encouragement, he actually inspired me that I could do something like this on my own," Ms. Crosby said.
She tentatively plans another trip to the orphanage for August. She said that at most, $150 from the fund-raiser would pay for travel costs for the trip. The rest will go directly to the orphanage for an array of expenses, including clothing, food, school sponsorships, and medicine for the Chikungunya mosquito virus spreading across the country.
To Raise a Home does not yet have federal nonprofit organization certification, but Ms. Crosby is determined to make a difference nonetheless. She has set up a GoFundMe site for donations and is looking for interested parties to create an executive board, which would help the group achieve nonprofit status. Eventually, she said, she wants to work on education reform in Haiti and establish training camps for teachers there to increase literacy among Haitian children.
Ms. Sawicki participates in the fund-raising events Ms. Crosby plans by contributing photographs and drawings to be put up for sale. For the upcoming Heart for Haiti event, she contributed photographs that she took at a school on her most recent mission trip to Simonette, Haiti.
"I am so incredibly proud that Aubrey's taken such a huge step in making a change in a nation that needs so much assistance," Ms. Sawicki said of Ms. Crosby's charitable efforts.
Ms. Sawicki is not the only artist contributing to the Heart for Haiti event.
Ms. Crosby has acquired pieces from more than 25 local artists, such as Jackie Kellet and Timothy Gaewski.
The event also will feature musical performances from artists including Jeremy Holloway and Earl Cookie.
Jimmy Johns and Chipotle are donating food for the event.
Ms. Crosby has a master of arts degree in English from the University of Toledo and teaches composition writing at Siena Heights University and the University of Toledo. Despite her lifelong dream of being a teacher, she said she has always had an interest in the arts, which coincided perfectly with planning these fund-raisers.
"I think that Toledo is a place where artists and musicians struggle to get the recognition that they want, so this is kind of a way that everybody wins. I get to spotlight some of these [artists and] musicians and their talent, and then it's also raising awareness for this home." she said.
Contact Kathleen Ashcraft at: kashcraft@theblade.com or 419-724-6050.
Guidelines: Please keep your comments smart and civil. Don't attack other readers personally, and keep your language decent. Comments that violate these standards, or our privacy statement or visitor's agreement, are subject to being removed and commenters are subject to being banned. To post comments, you must be a registered user on toledoblade.com. To find out more, please visit the FAQ.