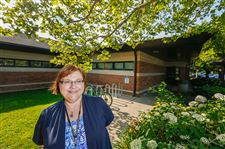 Lisa Green, branch manager at the Oregon Branch Library, says patrons will like the larger, improved library after the renovations. Temporary quarters will be at the old Wynn Elementary School.
THE BLADE/ANDY MORRISON
Enlarge | Buy This Image
The Oregon branch library will undergo a $3.5 million expansion and temporarily move to the former Wynn Elementary School during the yearlong construction.
The project will expand the 3340 Dustin Rd. library to 18,700 square feet from 15,000 square feet, said Charles Oswanski, the Toledo-Lucas County Library's facilities and operations superintendent.
"This will get the library to the same size of other busy branches, such as Heatherdowns, Reynolds Corners, and Sylvania," he said.
The project will result in larger areas for children and teens. Additionally, the meeting room will increase in size and a collaboration space, a smaller version of a conference room, with data ports will be added.
The children and teen areas will be separate. The project also will add computer stations to the branch. The new addition will be a little different architecturally, but "it will complement the existing building," Mr. Oswanski said.
Most of the new construction will face Coy Road. The current entrance on Dustin and Coy will remain unchanged.
Lisa Green, the Oregon branch manager, said the library would close Aug. 11 and reopen in the Wynn Elementary building, 5224 Bayshore Rd., on a day still to be chosen during the week of Aug. 25.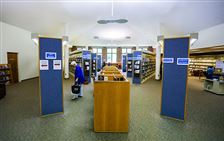 The children and teens' areas will be separate and larger, the meeting room will expand in size, and computer stations will be added.
THE BLADE/ANDY MORRISON
Enlarge | Buy This Image
"Our collection will be smaller, but for the most part the same services will be provided," she said. "Folks can still order books. We'll have a browsing collection of new and popular titles, but on a smaller scale. We'll still have Wi-Fi and computers, and we'll still do scanning and faxing, but our hours won't be as long."
Those hours will be 11 a.m. to 7 p.m. Mondays and Tuesdays and 9 a.m. to 5:30 p.m. Wednesdays through Saturdays.
While construction is in progress, the Oregon branch is working with the Metroparks of the Toledo Area for use of the Packer-Hammersmith Center at Pearson Park for its story time and book discussion programs, Ms. Green said.
Oregon branch patrons will appreciate the larger, improved building when it is done, she said, with its bigger reading room likely to be especially welcome.
"We have a very small room now," she said.
She described the Oregon lranch as "one of the top four or five" in the county system in terms of the number of patrons — including visitors from Ottawa and Wood counties as well as people locally.
Mr. Oswanski said $2.6 million is budgeted for the cost of construction and $900,000 for furniture, equipment, and unexpected costs. Borrowed money will be used and the debt serviced by the library system's general fund; building and repair funds also have been set aside. Construction will begin in late August and be finished by midsummer 2015.
Contact Carl Ryan at: carlryan@theblade.com or 419-724-6095.
Guidelines: Please keep your comments smart and civil. Don't attack other readers personally, and keep your language decent. Comments that violate these standards, or our privacy statement or visitor's agreement, are subject to being removed and commenters are subject to being banned. To post comments, you must be a registered user on toledoblade.com. To find out more, please visit the FAQ.